Looking for the best care packages for a college student? Here are the 23 best care package ideas for college students that they will absolutely love!
One of the best things I looked forward to as a college student was the lovely, cute care packages I received from my parents!
A care package is basically a basket or box filled with an assortment of things that you know your college student will appreciate. You can buy ready-made care packages from Amazon or even DIY them and get as creative as you want to be!
Sending a care package is a great way to show your college students that you love them and that you care about them, even if they're miles away!
Related: 35 Thoughtful Dorm Gifts For College Students
So here are 20+ simple care package ideas for anyone who wants to send a thoughtful care package to their favorite college student.
1. Homemade treats in a box
Be it cookies, granola, or brownies, every college student will love to receive a box full of their favorite homemade goodies! Do make sure to send them enough treats so that they can share them with roommates and friends!
2. Favorite Snacks in a box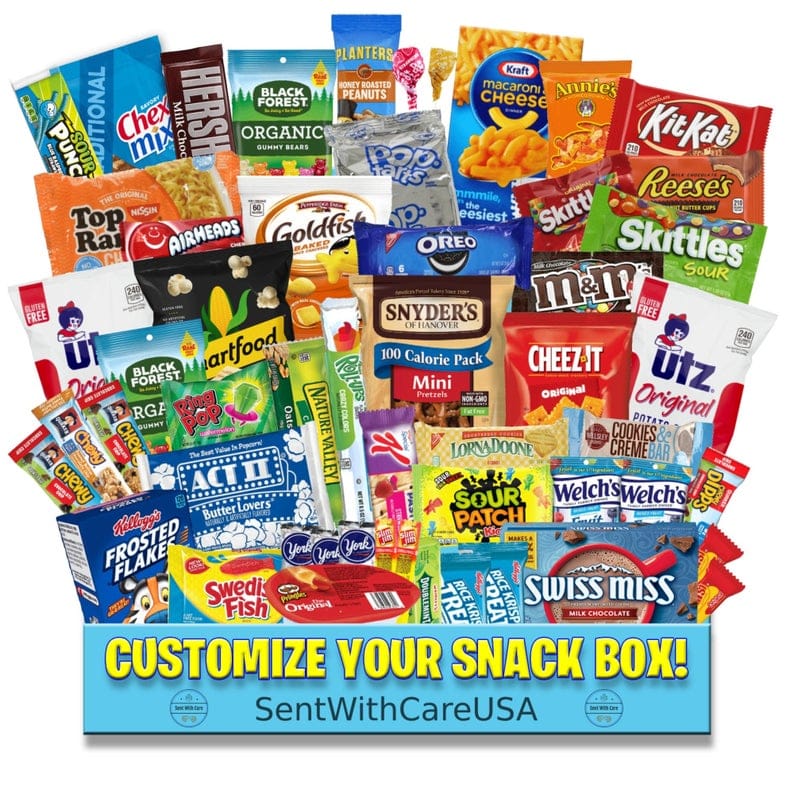 I guarantee you that nothing can be more comforting than receiving a box full of their favorite snacks! They're the go-to for college care packages!
My mom used to send me snack boxes occasionally and I was always so thankful for them, especially on busy days or around final exams! They are the perfect solution for whenever you're in need of a little pick-me-up.
This college care package idea is so easy because there a so many pre-made snack boxes, like this one, available on Amazon!
3. Self care package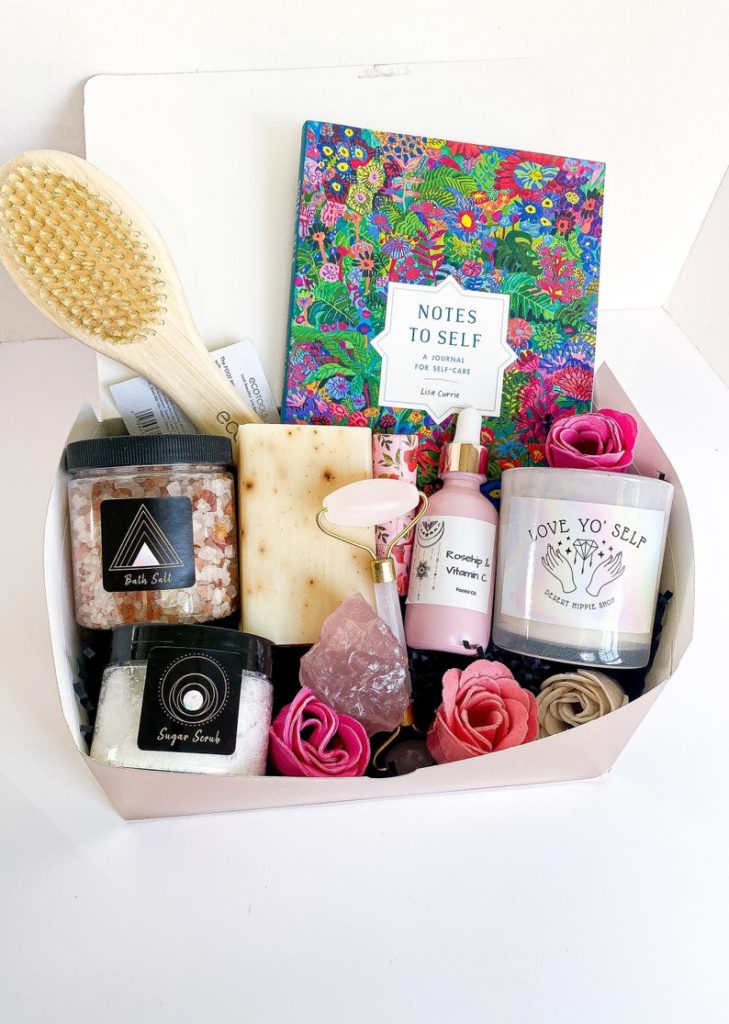 Self-care is essential for anyone, especially for college students, because they're bound to be stressed when assignment deadlines or finals draw near!
What could be better than sending them a self-care package to help them relax and unwind! This handmade spa gift box from Etsy looks perfect and has got amazing reviews!
4. Sunshine Gift Box
Surprise your favorite college student by sending them a sunshine gift box!
These are super popular right now. It's simply a care package that includes only gifts that are yellow themed and will make the person who receives it really happy!
5. Get Well Care Package
Getting sick in college and being on your own can be tough.
If you have a college student who's feeling unwell, then a get well care package is the perfect way to show them how much you care about them, even from a distance!
This get well care package from Amazon includes cough drops, kleenex, chapstick, green tea bags some comforting snacks, and even a small vase full of cheerful flowers.
6. Hot Cocoa Box
Hot cocoa and marshmallows are the perfect sweet treat for a fun and festive care package to send to college students, especially around the holidays!
It's super easy to pull together and will keep your college student feeling super cozy and warm in winter!
7. Cozy Slippers
If you're sending a winter care package, then throw in a pair of cozy slippers for your college student to wear around her dorm or apartment. This will be greatly appreciated, especially during the winter season!
Related: 35 Best Christmas Gifts for College Girls
8. Cleaning Supplies
There are so many things you actually need while living in a college dorm, like cleaning essentials.
A care package with cleaning essentials might not sound like a fun idea for a care package but they will surely appreciate it!
So throw together a care package with some cleaning essentials that they'll use on a daily basis like disinfectant wipes, scented trash bags, all-purpose cleaner!
This cleaning supplies list contains everything that a college student would need for living in a dorm.
10. Toiletries
Just like cleaning essentials, toiletries are also something your college student will need a lot in college. They might be running low on supplies and sending them this care package will save them a shopping trip.
Simply throw in the basic toiletries like toothbrush and toothpaste, mouth wash, shampoo and conditioner, deodorants etc!
10. I Miss You A Latte Box
How cute is this care package idea?! If your college student is a coffee lover then she'll totally love this Latte care package!
Also with a sweet 'I Miss You A Latte' quote anybody would love to receive a box like this!
You can totally DIY this care package idea with a cardboard box, some paper cups, coffee creamer, and instant coffee!
11. Extra long charging cord
One can not have enough phone chargers when living in a college dorm. It's such a useful thing to add to a college care package!
These are super helpful when living in dorms because most often there are not enough charging outlets and the ones you do have will be at inconvenient places. These extra long phone chargers make charging your phone super easy!
12. Halloween Care Package
No matter how far away you are, share the joy of Halloween with your college student by sending them this spooky Halloween care package. Make it as hilarious or as scary as you want it to be!
They will love receiving a box of goodies specially put together for them on the holidays since they'll probably be feeling homesick. You can include spooky-themed foods and candy, a horror book or movie, decorations and so much more!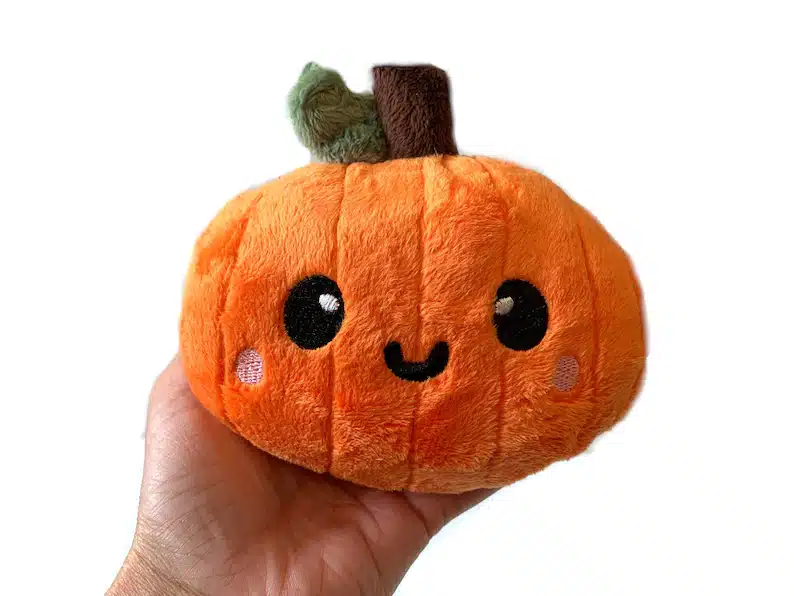 13. Just Add Ice Cream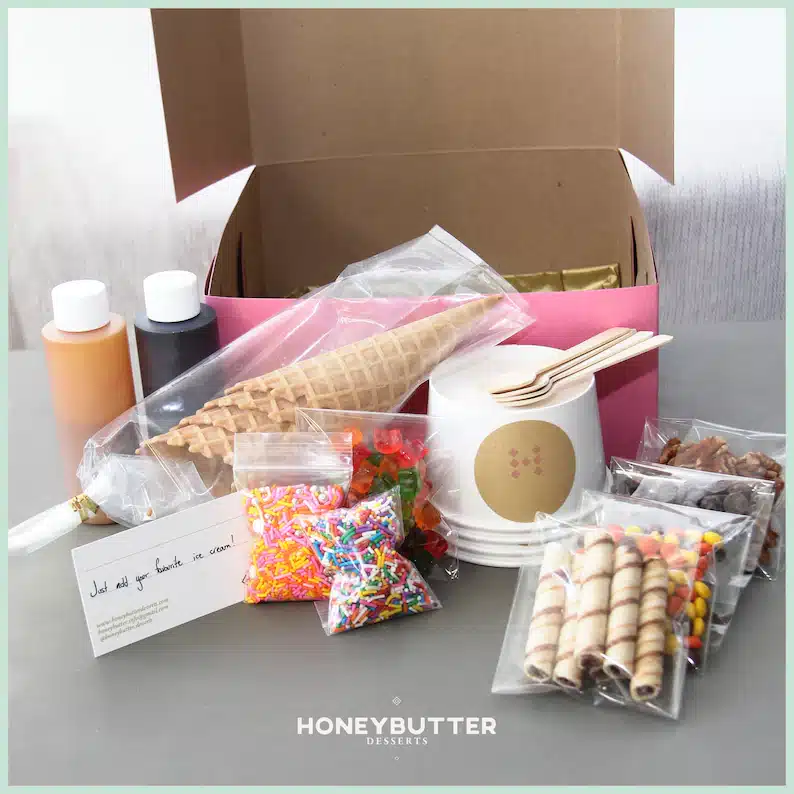 This is another fun and creative care package that college students will adore! Let them have fun making their own ice cream with friends!
This ice cream sundae in a box package has everything they need. This is such a fun care package idea for college students!
14. Laundry supplies
Laundry supplies such as Tide Pods laundry detergent or some scented dryer sheets. are another super useful thing to include in a college care package.
15. Movie Night Box
Movie Night in a box is another fun care package idea for college students and will make any college student happy! The best part is that they can share it with their roommates and others on their dorm floor!
This ready-made movie night box from Amazon is a great option; it comes with a lot of snack options and a Redbox voucher. Or you could easily make one yourself by getting some popcorn and snacks along with a subscription to their favorite streaming service!
16. Healthy Snacks Care Package
Send them a snacks care package, but with a healthy spin!
Healthy snack care packages are always great to give college students! Between late-night study sessions and busy schedules, it's particularly important they get something healthy to eat.
This healthy snacks care package contains tons of snack options like low sugar high protein snacks, chia bars, etc which are not only nutritious but also perfect to get their fill of brain food, particularly around exams!
17. Herbal Tea
For the tea-loving college student, include some herbal tea in your care package to comfort them and remind them of home! This is also a great thing to include in a winter care package!
18. Food Gift cards
You simply cannot go wrong with food gift cards! Who doesn't love food, especially when it's free!
Getting a gift card to their favorite restaurant or Starbucks in the care package you send them will really cheer them up!
19. Face masks
If your college student has been feeling stressed lately, send them a box full of face masks to help them unwind and have a spa-like experience, especially during finals season!! These will definitely be appreciated by college students.
20. Study supplies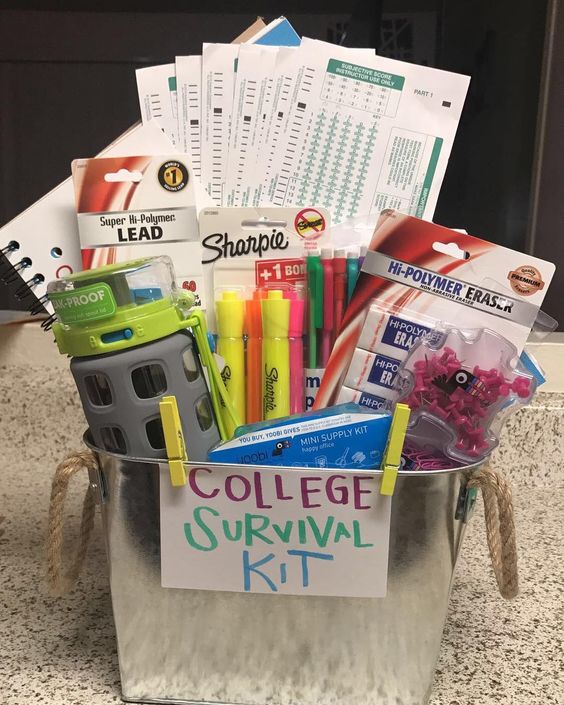 Send your college student a study supplies care package with the basic stationery they'll need for school, like pens, pencils, highlighters, stamps, etc =and they'll surely appreciate the thought.
21. Cheesy care package
A cheesy care package is such a cute idea to send a college student! Especially if they're cheese lovers!
I know it's cheesy but your college student will absolutely love it! Throw in all things cheesy and include some cheesy quotes and you'll not only fill their stomach but also their heart!
22. Cold care package
Your college student will be so grateful for sending them a thoughtful cold care package filled with cold medicines, lozenges, soft tissues, emergen-c, and hand sanitizer!
This is the perfect way to cheer up your sick college student! Plus, it will show them that you actually care about their health and well-being.
23. Money
Finally, if you don't want to send anything fancy but still want to make them happy, send them a little extra cash! It will always be appreciated!
This post was all about thoughtful care package ideas for college students.
I hope you found the post helpful! Care packages are the best way to let your college student know that you love them and care about them. No matter what you send, they'll love it and appreciate your care and concern!