Note: This post may contain affiliate links. We may receive a small commission if you make a purchase through a link. Please read our full disclosure policy here.
Looking for some inspiration for your grad party? Here are the 35 Best Graduation Party Ideas you'll want to copy!
This post is all about the best graduation party ideas that are guaranteed to impress everybody.
Graduation is a very important milestone in a student's life. You've finished high school or college which is absolutely incredible and deserves all celebration!
Related: 27 Graduation Party Food Ideas Your Guests Will Love
When planning a graduation party, it can be difficult to come up with ideas that are fun and unique. And being a recent college grad, I know how stressful that can be! So I have compiled all the best graduation party ideas, from the best decorations to food ideas and everything else you might need to help you plan the perfect Graduation party that everyone will love and remember!
I hope you find these helpful and have the best grad party ever!
Here are the best graduation party ideas 2023 grads will love.
1. Invitations
Make sure to send out cute invitations to your guests, they're perfect for setting the tone for your grad party. There are a ton of different websites for grad party invitations that you could choose from.
I love this invitation from Shutterfly because it's simple yet elegant. It's got the word 'Graduation' and the name of the grad strikingly written over it
2. Graduation Yard Welcome Sign
Put up graduation signs on the front lawn to welcome the guests and let them know where the party is. They make it so easy for your guest to find You can make the yard signs extra decorative by tying some cute grad-themed balloons to the stakes.

Want to recreate this idea?
3. Use balloons to mark the entrance
Make the party entrance look grand by decorating the front pathway with colorful balloons. You could make it look more fun by making the balloons your college or high school colors.
These huge balloons with the tassel strings look so festive and bring a super glam vibe to the party! This is definitely one of the most unique graduation party ideas!
Want to recreate this idea?
4. Graduation Rose Gold Theme
Loving the Rose Gold Theme?
Rose Gold color is all the rage now and you could use the color throughout your graduation party! This Rose Gold 2023 backdrop, complete with fringes and balloons garland is the perfect option!
Want to recreate this idea?
5. Confetti Balloons
These confetti balloons are seriously cute and popular party decorations. They liven up the atmosphere and add sparkle to the party!
Want to recreate this idea?
Related: 21 Best Backyard Graduation Party Ideas Your Guests Will Love
6. Graduation Party Cake
No celebrations are complete without a CAKE! Get a great-looking cake from your local bakery, it's your day after all!
Make it look more appropriate for a graduation party with this cute cake topper!
Want to recreate this idea?
7. Congratulations banner
A large congrats banner like this will be a great grad party decoration. It would also make for a fun photo backdrop!
Want to recreate this idea?
8. Balloon garland
Balloons garlands are excellent decorations for any kind of parties and are so easy to set up! They can be done with any color or theme. They also work as a great photo backdrop!
Want to recreate this idea?
9. Graduation Cap Cupcake Toppers
If you're planning on serving cupcakes then make sure to get these cupcake toppers because they're are super cute and cheap. They will be a great addition to any graduation party dessert table.
Want to recreate this idea?
10. Pizza Bar
Everyone loves Pizza! This Pizza Bar is such a great idea for any graduation party. Be sure to offer the standards like pepperoni and cheese, but also offer a few unique toppings too!
11. A Popcorn Bar
Who doesn't love some freshly popped popcorn? They are a great snack option for any kind of parties!
You can easily make a popcorn bar by yourself! Just pop some popcorn, keep a few clear containers for holding your popcorn varieties, offer seasonings and toppings with clear labels so your guests can create their own delicious flavor combination and some popcorn bags for holding the popcorn!
You can make it as big or as small as you want depending on the number of guests you're gonna have!
12. Yearbook Photo Banner
A photo banner that displays all your class pictures going all the way back to kindergarten will be a great idea! It's a fun way to add a sentimental touch to the party!
Want to recreate this idea?
13. Decorate in college or school colours
Using your college or high school colours is a great party décor idea! Get some balloons, napkins, banners etc in your college colours and incorporate those colors throughout your party!
Want to recreate this idea?
14. Door Banners
Decorating your front door for your 2023 graduation party is the best idea ever! It makes the entrance to your party look grand and classic! Also, think about how cute the photos are gonna be when taken in front of this?!
15. Polaroid Guestbook
A polaroid guestbook is great way to look back and remember all the guests that came to your party! Moreover, this will be a great fun activity for your guests too! Ask everyone to take a picture and tape it in the book and leave a note under it.
Want to recreate this idea?
16. She's One Smart Cookie Spread
I love how cute this 'One Smart Cookie' Bar is! Your guests will love them too!
All you need is some cookies, some cute blackboards signs, and a tiered metal display. It would even make a great centerpiece for your dessert table!
Want to recreate this idea?
17. Create a photo wreath
Photos are a must for any graduation party! Collect all of those beautiful memories with your friends and family captured over the years from kindergarten through high school and add them to this clever DIY photo wreath.
Click here to see the tutorial for this DIY.
18. Graduation Year Balloons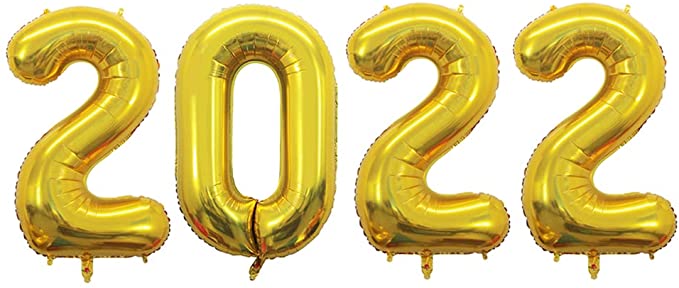 Large number balloons spelling out the year of graduation are super popular right now and a must for every graduation party! They are such a classic party décor!
They also make for a great photo backdrop! The year you graduate is super important and you'll want to remember it forever!
19. Wisdom Jar
High school graduates are still trying to figure the world out, so a wisdom jar is a great thing to create at a grad party. Lay out pencils and slips of paper at the door and have your guests write down their top tips for college and beyond.
Ask friends and family members to offer their best life advice, write each one on a slip of paper, and stick them in this DIY wisdom jar for a thoughtful keepsake.
Want to recreate this idea?
20. Black and White Tassel Garland
Celebrate your graduation party with traditional colors associated with graduation day. This black-and-white tassel garland is made with tissue paper tassels!
Click here to get the tutorial for this DIY.
21. Fruit Juice Bar
This fruit juice bar will be a great refreshment for your guests, especially if your graduation party is on a really hot day. Just keep some fruits skewers in bowls along with the juice jars and your grad party guests will be completely impressed!
Want to recreate this idea?
22. The One Where they graduate Photo Backdrop
If you are a fan of the FRIENDS show then you should definitely use this at your graduation party! It would make for an amazing photo backdrop!
Want to recreate this idea?
23. Have a chalkboard photo backdrop
Photo booths are a must-have at every graduation party and a chalkboard photo backdrop is a cool way to set up a photo booth backdrop! These are super trendy right now and really easy to put together.
Want to recreate this idea?
Related: 31 Best High School Graduation Gifts For Girls
24. DIY Photo Vase
This photo vase centerpiece looks soo cute and is so easy to recreate. All you need is a mason jar and a wooden base, which you can easily find at your local store or in Amazon. Just attach some photos to skewers and add flowers for a memorable centerpiece for your graduation party.
Want to recreate this idea?
25. Diploma Napkin Wraps
These Diploma Napkin Wraps are such a simple but clever party décor! Using some napkins, ribbons and white office paper you can easily dress up the silverware rollups for the party. Your guest will surely be impressed by your attention to detail.
26. Graduation Card Basket
Your party guests will need a place to drop off their cards for you! And you definitely don't want to lose them since they will usually have money or gift cards inside! Keep track of your cards with this super cute card basket. You could make them look even cuter by tying some tassels on them!
Want to recreate this idea?
27. DIY Donut Wall
Donut walls are SUPER popular right now and the perfect dessert idea to have at your graduation party! It's incredibly cheap and easy to create and also makes for some really cute party décor.
If you're short on time, then there are so many pre-made cute options on amazon you can buy, so you just have to think about buying the donuts.
Want to recreate this idea?
28. Instagram Hashtag
Having an Instagram hashtag is an easy way to look back on your special day on Instagram with a single hashtag and a great way to make sure that you are able to see all the pictures guests took while at your party!
Find a tag that isn't already being used and place them in frames all around the party encouraging people to use it.
Want to recreate this idea?
Related: 29 Best High School Graduation Gifts For Boys
29. Set Up a Graduation Candy Buffet
A Candy Buffet is so fun to have at your party! Set up an enticing collection of sweets and goodies that color compliments your party theme or create a candy buffet in your school colours! And throw in some 'punny' school-themed labels, like "book worms" for gummy worms or "counting beads" for jelly beans.
Want to recreate this idea?
30. Cute Grad Cap Straws
These grad cap straws are such a unique grad party idea! They are so easy to make too. All you need is some straws and some black card stock for the graduation. Your guests will love using them to sip drinks.
Want to recreate this idea?
31. Class of 2023 rings
This is such a clever idea and super easy to set up. All you need are some ring pops, a bowl, and a cute little sign. These would make great grad party favors and sit perfectly on a candy bar or dessert table.
Want to recreate this idea?
32. "Taco 'Bout A Future" Balloons
A taco themed party is soo fun to have! You can use these balloons for decoration and have a taco bar for the food.
Want to recreate this idea?
33. Taco Bar
You know, grab-and-go snack options will be the best party food idea since everyone will be walking around. And this walking taco bar lets your guest choose the chips they want and fill it with toppings of their choice. This is a 2023 graduation party idea you must try!
Want to recreate this idea?
34. String lights between trees
How beautiful is this graduation party idea! If you're having an outdoor graduation party then these strings lights will instantly make your party space look stunning and cozy! You can even hang them from railings or tents if you don't have enough trees to hang them from.
Want to recreate this idea?
35. Graduation Favor Bags
Graduation favor bags are a clever way of saying thank you to everyone that came to your grad party.
It doesn't have to be anything expensive! Just fill some printed treat bags with candy or some freshly popped popcorn and make your guest feel special.
Want to recreate this idea?
These are the best Graduation party ideas sure to make your party a hit!
For more ideas on graduation, you may also be interested in these: