Note: This post contains affiliate links. We may receive a small commission if you make a purchase through a link. Please read our full disclosure policy here.
Looking for graduation caps to wear on your graduation? Here are the best graduation cap ideas for 2023!
The Best Graduation Cap Ideas
This post is all about the best graduation cap ideas for every type of graduate.
Graduation is one of the best moments in every student's life. And after all that hard work and all-nighters you deserve to look fab while you're walking across that stage.
One of the most fun parts about graduation (besides the celebration, of course) is seeing all the unique and memorable grad-cap ideas each graduate comes up with!
However, there are so many graduation cap ideas that you can find on the Internet, and picking out something that you will love can be a bit overwhelming!
Whether you're graduating from high school or college, celebrate your hard work with a grad cap that has as much personality as you do. From funny pop culture references to inspirational messages, these 23 clever and beautiful graduation cap ideas are sure to be a hit on your big day!
1. Handpainted Graduation Cap
This handpainted floral graduation cap is the perfect way to show off your creativity and your favorite inspirational quote!
2. Inspirational Message
This starry sky-themed graduation cap idea looks so stunning! And with this inspirational saying and cool blue design, you're sure to stand out.
3. The Mean Girls Graduation Cap
Using a movie quote that fits with graduation is always a great option for your grad cap. Plus if you love all things pink and sparkly, then what better than a 'Mean Girls' themed grad cap! Some glittery pink foam and rhinestones are all you need to recreate this idea!
4. Floral Graduation Cap
If you are a DIY queen then this floral graduation cap is the one for you! "Nevertheless She Persisted" is a classic and would be a perfect quote to put on your graduation cap.
5. Simple Graduation Cap
Don't feel like going too crazy? This graduation cap idea is perfect for anyone looking for a simple and cute design that'd still make them stand apart in the sea of grads! The message 'the world awaits'! is simple but super inspirational!
6. Tangle Themed Graduation Cap
This Tangled graduation cap is so gorgeous! Fake flowers are such a pretty and cheap way to glam up your cap. And the message 'On to my new dream' is a great way to show off you're graduating and ready to change the world.
7. Adventure is Out There
If you're super excited to take on the post-grad life, nothing shows how ready you're to take on the world than this adventurous graduation cap design!
8. Thank You Graduation Cap
Graduation is the perfect time to thank your parents or those who have helped you attain your dream. Show how grateful you feel for having them in your life with this pretty graduation cap idea.
9. And She Graduated Happily Ever After
Another great Disney graduation cap idea with the iconic Disney castle and the perfect message to go with it!
10. Two Degrees Graduation Cap
If you've just completed your master's degree, then this 'hotter by two degrees' would be the perfect graduation cap idea for you!
11. Lion King Inspired Graduation Cap
Song lyrics inspired graduation cap designs are the best, especially something as famous and meaningful as 'Hakuna Matata'!
This idea is super easy to copy and all you need is a glittery formboard and some paper flowers for crafts.
12. Leslie Knope Cap
This inspirational Leslie Knope quote (from Parks and Recreation) would be a perfect fit to put on your graduation cap!
13. "Friends" Inspired Graduation Cap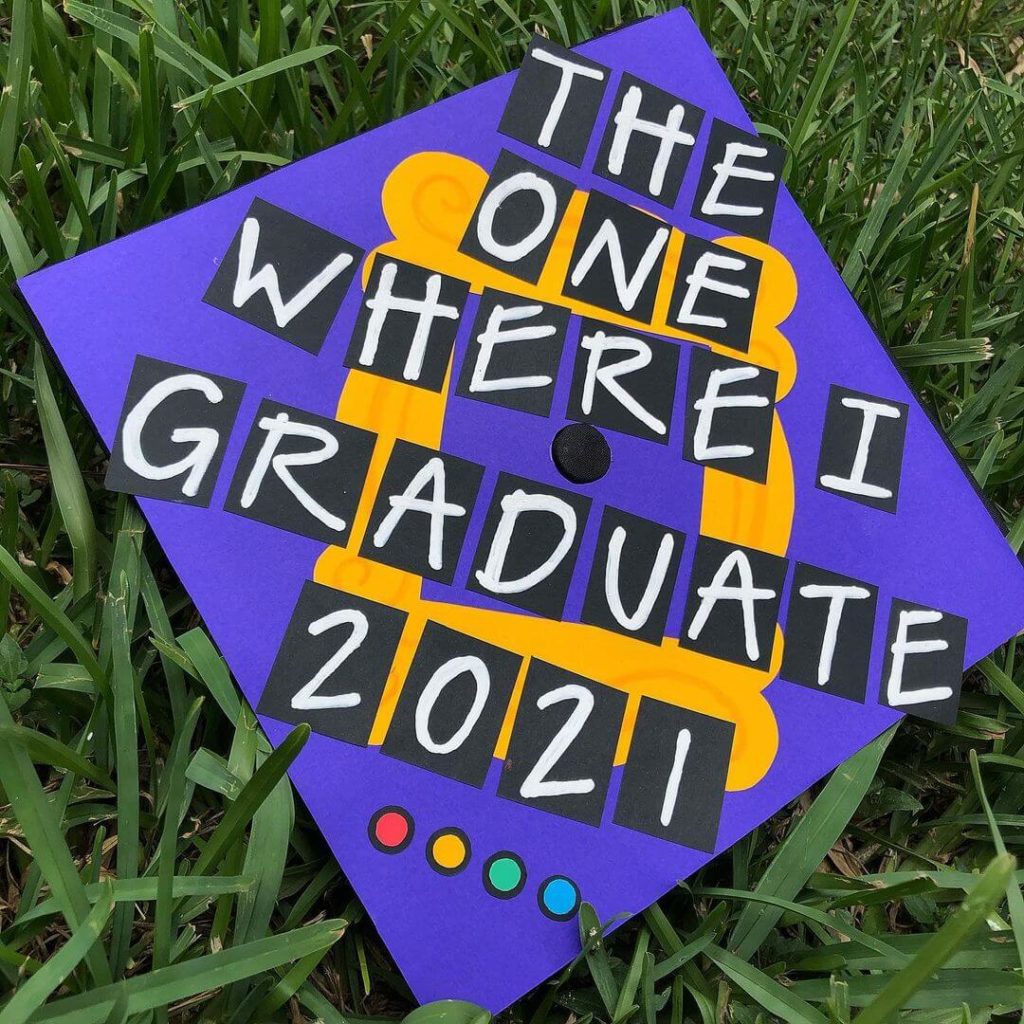 If you're a fan of the 'Friends' show, then this will be the perfect graduation cap for you!
14. Darth Vader Graduation Cap
If you're a big Star Wars fan, you have to incorporate a Star Wars scene into your graduation cap! Plus the message will be so perfect for the graduation ceremony!
15. I Hope My Dog Is Proud Of Me
If you're someone who owns a dog or any other type of pet, then this would be a wonderful idea to copy! Plus it's incredibly easy to copy with a white glittery cardstock and cut-out pictures of your pet!
16. RIP Senior Year
Such a fun way to say goodbye to your college days! You can easily DIY this graduation cap idea with some glittery foam and letter-iron patches.
17. Princess Diaries Graduation Cap
Get a little silly with this princess diaries graduation cap that's super funny and easy to create!
18. Hogwarts Graduation Cap
This Marauder's map-inspired graduation cap idea, based on the Harry Potter novels, is another unique and funny graduation cap! Some glittery foam, craft paper, and a sharpy are all you need to DIY this idea!
19. And The Story Goes On
Sometimes keeping it simple is the way to go! You may have graduated but your story is far from over!
20. 7 Rings Inspired Graduation Cap
This Ariana Grande-inspired graduation cap is an adorable way to say that you're incredibly proud of yourself! Some pink paper flowers, rhinestone strip, and glitter alphabets; that's all you need to make this unique and funny graduation cap!
21. Spongebob Squarepants-inspired
How hilarious is this graduation cap idea? SpongeBob is such a super popular and funny way to decorate your cap!
22. Rose Gold Graduation Cap
This rose gold graduation cap looks so gorgeous with all the flowers and rhinestones! It might take you some time to get this done but the end result will be so worth it!!
23. Dory Graduation Cap
College can be exhausting and intimidating. This Dory graduation cap with the message 'Just Keep Swimming' perfectly captures that sentiment and at the same time motivates you to hold on!!
This post is all about the best graduation cap ideas.
Whether you're totally into funny quotes or cool artwork, these DIY graduation caps are sure to give you some inspiration.
I hope you found the perfect graduation cap idea for your big day!
For more ideas about graduation, be sure to read the following posts…