Note: This post contains affiliate links. We may receive a small commission if you make a purchase through a link. Please read our full disclosure policy here.
Looking for some inspiration for your 21st birthday party? Here are the 23 Unique 21st Birthday Ideas you'll want to copy!
Your 21st birthday is a HUGE DEAL and you've probably been looking forward to this day for years! It's one of the biggest milestone birthdays and you will definitely want to make it a day to remember!
Whether you're going big or you want a smaller celebration with your closest friends, your 21st birthday party should be planned accordingly, with all the cutest 21st birthday decorations!
However, party planning can be a bit stressful, and finding unique birthday party ideas is not easy at all. Having just celebrated my 21st birthday, I have some experience and I want to help you!
So whether you're looking for ideas for yourself or for a friend, this post shows you the best 21st birthday ideas that are absolutely guaranteed to make it a day you and your friends will remember forever!
Related: 21 Best 18th Birthday Party Ideas For A Fantastic day
1. 21 Number Balloons
Recreate this idea:
What better way to ring in your 21st birthday than with these shiny 21 number balloons?
These ones from Amazon are super affordable and are available in so many colors. Apart from being a decoration, they even provide a great backdrop for pictures
2. Bubbly Bar
Recreate this idea:
It doesn't get CHICER than this!
If you're hosting a 21st birthday party, then a drinks bar is an absolute must-have!
And this bubbly/mimosa bar idea looks soo incredible it can't get any FANCIER than this! You can easily recreate this idea and let your guests serve themselves
3. Champagne Balloons
This bubbly champagne balloon set is one of my absolute favorite 21st birthday ideas!
Plus it doubles as a cute photo backdrop and everyone will have a great time taking photos for your birthday in front of it!
4. Personalised Birthday Cupcakes
Personalize your birthday cupcakes to make them more unique and more YOU! Adding a personal touch to your food or decorations is the perfect way to make everything look extra special!
You only get to celebrate your 21st birthday once, so why not make the best out of it!?
If you can't get personalized cupcakes, adding custom cupcake toppers with your name is a great alternative.
5. Put up a photo backdrop
Recreate this 21st birthday idea:
If there's one thing that's for sure, it's that you are going to be taking tons of photos with your friends all night! So make sure you set up a cute photo backdrop with balloons and banners!
A fringe backdrop and some balloons are a simple way to completely transform your wall and provide a great backdrop for pictures!
f you're short on time and don't want to buy everything separately, these 21st birthday decorations from Amazon make a pretty decent decorating kit!
6. 21 Number Marquee letters
Recreate this idea:
These bright light-up marquee letters are the best way to add some glam to your party! This is such a unique 21st birthday party decoration and the perfect decoration without spending a lot of money.
7. Trashed Barbie Birthday Cake
Recreate this idea:
A trashed barbie birthday cake is among one of the most popular and funny 21st birthday ideas!
All you need to do is bake a regular birthday cake and top it with mini liquor bottles and a barbie. You can order Barbies from Amazon for less than $15 dollars here.
8. Polaroid Photo Prop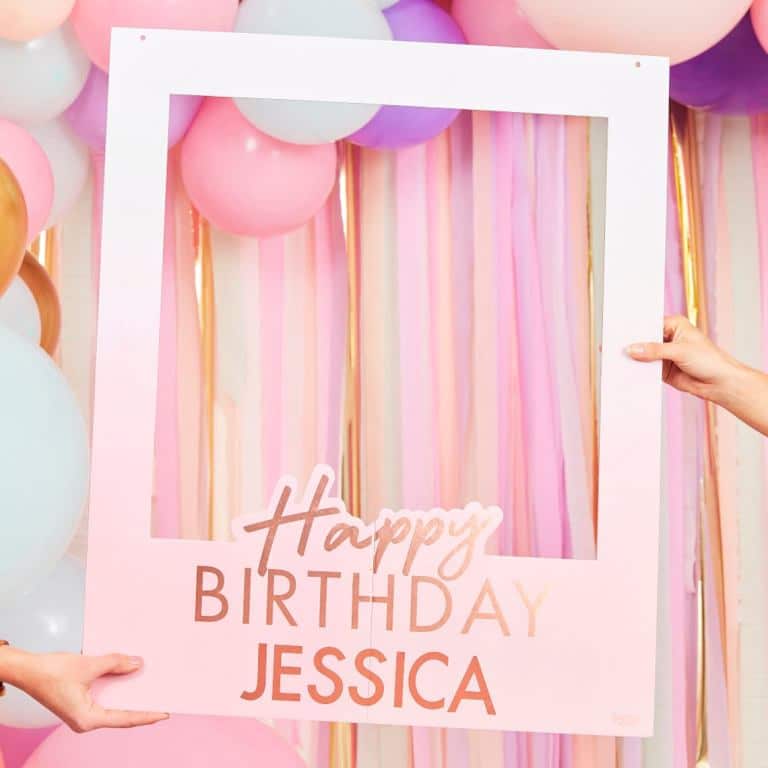 Another really popular idea that is a must-have for your 21st birthday party is a polaroid photo booth!
Plus, this is completely customizable and you can easily add a personal touch to the party! Your 21st birthday is such an important day for you, so make sure everything is as personalized as possible.
9. White Claw Cake
Recreate this 21st birthday idea:
Your 21st birthday and alcohol go hand-in-hand, after all!
So why not replace the traditional birthday cake with one made out of your favorite drinks? I can guarantee that every 21 year old will love getting this booze cake!
All you'll need is a 3 tier cake stand, some white curly bows, and a few cans of the drinks the birthday girl likes best!
10. Disposable Cameras
Recreate this idea:
You want to make sure this day is remembered with tons of cute photos with friends and family.
But you are bound to miss capturing some of the best moments at your party. So all you need to do is give your guests a disposable camera and let them take pictures throughout the party.
I think it's such a fun idea and something that would be so much fun to look back on when the party is over.
11. Entry Fee Shot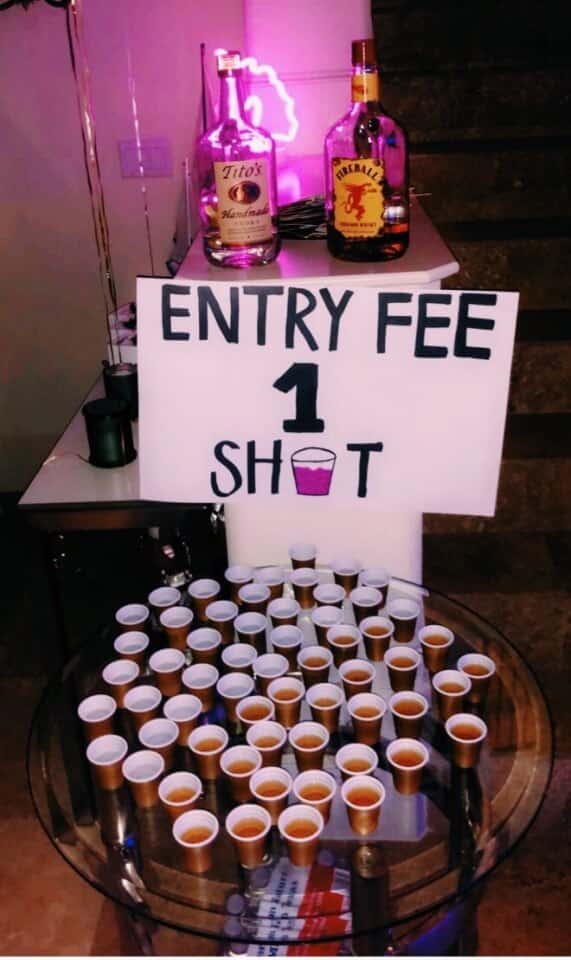 Recreate this idea:
No better way to get your 21st birthday party started by giving everyone a shot at the door! This is such a classic 21st birthday idea, and I really love it!!
12. Cotton Candy Drinks
Recreate this 21st birthday idea:
When it comes to epic birthday parties, details are what make all the difference.
Serving these cotton candy drinks at your party is such a great idea! All you need to do is fill these champagne flutes with your favorite beverage and top it off with cotton candy and you have for yourself a sophisticated welcome drink!!
13. Birthday Cake Shots
Speaking of fancy drinks, these birthday cake shots are another 'drinks' idea that's nothing short of AMAZING! They are super easy to make and a fun treat to have at your 21st birthday party!
Your guests are definitely going to be impressed by your attention to detail!
Here's what you'll need to recreate this idea:
14. Hangover Kit
There's going to be a lot of alcohol at your birthday party, so it's better to be prepared for the morning after with a hangover kit already put together!
Here's what you'll need to recreate this idea:
15. Alcohol Bouquet
If you're looking for an appropriate gift to give your 21 year old on their birthday, then this alcohol bouquet would make the perfect present! Every 21 year old will love to receive this as they're finally legal to drink!
Here's what you'll need to recreate this idea:
16. 21st Birthday Sash & Tiara
Recreate this idea:
Let everyone know who's the star of the day by wearing a birthday sash and tiara! Not only will you get free shots with this accessory but it will even make for very cute photos!
17. 21st Birthday Checklist
Make your birthday a little more exciting with a 21st birthday party bucket list! Just jot down the top ten or so ideas you have and activities you want to complete before the night is over.
Imagine how fun it would be if you actually were able to do all of those! This way you can go on ticking each job off as and when you get them done instead of just waiting for things to happen.
18. 21st Birthday Cake Topper
Recreate this idea:
You can't have a birthday party without a cake.
And this shiny, crystal cake topper is the cherry on top to add to your 21st birthday party. This is something that could make your birthday party decor stand out!
19. Beer Pong Cupcake
Recreate this idea:
You're FINALLY 21, so it's totally acceptable to put alcohol in everything — especially dessert. These beer pong cupcakes are such a classic 21st birthday party idea and are sure to be a hit at a 21st birthday party!
You'll only need some mini red solo cups filled alcohol or jello shots to make the perfect 21st birthday dessert.
20. Glitter Alcohol Bottles
For the newly-turned 21-year-old this glitter alcohol bottle would make the perfect birthday gift! She'll absolutely love it and it's super simple to make too! You can easily DIY old/new bottles on your own using some glitter, glue, and of course, alcohol!
21. Birthday Party Playlist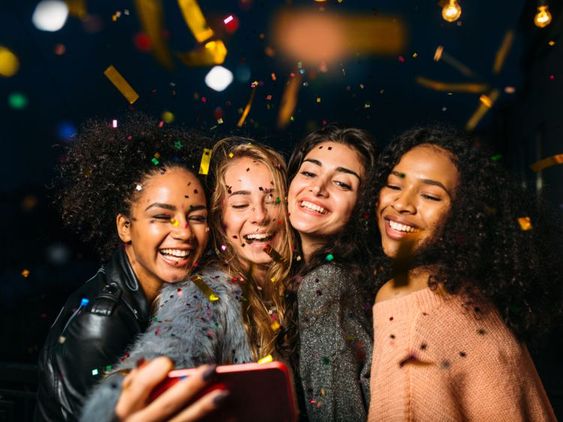 Playing some music in the background sets a great vibe to the party! It's a simple thing that you can do to enhance your dinner party but is often overlooked!
There are a million birthday playlists on Spotify you can choose from! Just pick a station and put on some speakers before your guests arrive!
22. Have a birthday Brunch
So many birthday parties serve the same food which can get really repetitive, so why not switch it up with something different like having a Brunch Bar?!
You could either cater in some of your favorite breakfast food or cook all of the food yourself! I love this idea and think it'd be something memorable for your guests.
23. Sweets Table
A sweets table specifically for your cake and any other deserts are a delicious addition to any type of party and something your guests will remember forever.
I love how gorgeous this sweets table looks! You'll only need a couple of these super affordable cake stands and there's loads of space to stack up your desserts on their tiers.
This post was all about the best 21st birthday ideas for the best day ever.
Looking for More Party Ideas?