Note: This post contains affiliate links. We may receive a small commission if you make a purchase through a link. Please read our full disclosure policy here.
Best DIY Valentine's Gifts
Looking for the perfect gift to give your significant other on this Valentine's day?
This post is all about the best DIY Valentine's gifts to make your loved one feel special!
With Valentine's Day right around the corner, you must be looking for the perfect gift to get for your significant other! And sometimes going with a DIY gift is a better option than a store-bought one, because it's the thought that counts, right? ????
DIY Valentine's gifts are a cute and thoughtful way to put a personalized touch on your gifts to make your loved one feel extra special.
So here are some of the best DIY Valentine's gifts that your significant other is sure to appreciate and don't require any major crafting skills.
1. Jar of Kisses
This is one of the easiest and most romantic DIY Valentine's gifts!
All you need is a mason jar and a bag of Hershey's Kisses. Then just place a cute notecard that says "Kisses for when I'm not around" and you're all set.
2. I Have a 'CRUSH' On You
This is such a fun and unique Valentine's day gift idea. No sweeter way to tell your loved one that you've still got a crush on them! 🙂
Just grab some glass bottles of crush soda and add a cute tag saying 'I have a CRUSH on you' and you're done! Super cute and creative.
3. Open When Card
"Open when" cards are a thoughtful and romantic gift idea for Valentine's Day. All you need to do is to write a series of letters for different scenarios and try to be fun and creative with "when" you want them to open the letter. For example, "Open when you're upset" or "Open when you miss me."
This is a super cute gift idea for your boyfriend/girlfriend that gives them a little reminder of you when they are in need of it.
4. Date Night Ideas Jar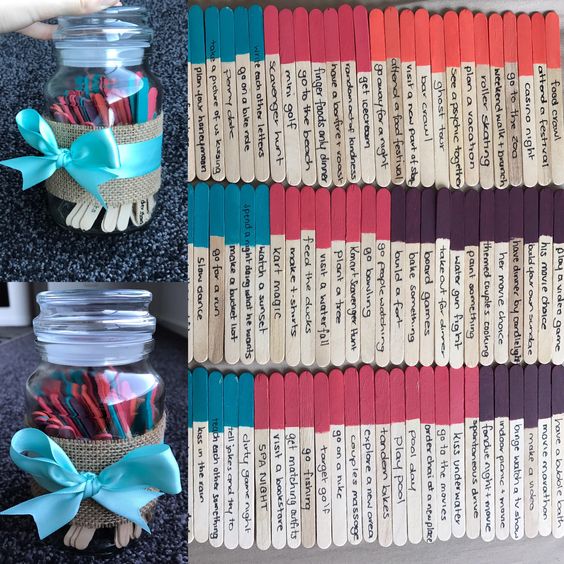 The only thing better than date night? A cute DIY jar that tells your partner exactly what you'd like to do on date nights!
You just have to fill a mason jar with some popsicle sticks and write all those things you love to do on a date. You can even color-code them based on outdoor, at home, and ideas that cost money, etc!
5. 'You Mean the World to Me' Globe
"You Mean the World to Me"!
Really, how adorable is this DIY Valentine's gift idea?
All you need is a globe along with some letters and cut-out hearts to get the job done. Your Valentine will be amazed by the attention to detail and will definitely appreciate a gift made with love!
6. Mini Liquor Box
This is another super fun DIY Valentine's gift that is really easy to put together.
You just need some mini liquor bottles and a heart-shaped box (an empty box of Valentine's Day chocolates will do the trick!) Then write "Every minute that is spent without you is a moment that is wasted" on the lid.
Super cute and clever!
7. All Senses Gift Boxes
Pretty much what it says! This is of the most popular DIY Valentine's gifts among girls!
Gift your partner with a basket of different things that appeal to their 5 senses: taste, smell, sight, touch, and sound! For example, a candy bar for 'taste', perfume for 'smell'.
Super simple, but thoughtful.
8. You Knock My Socks Off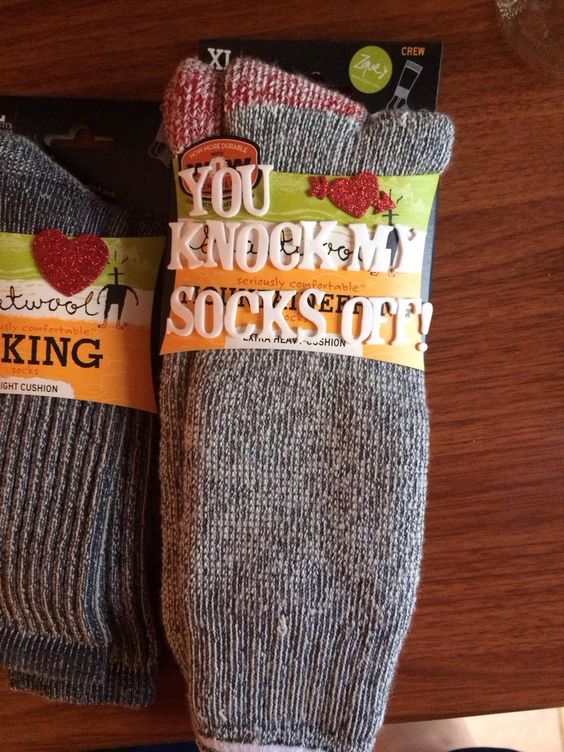 This might not be the most original gift idea, but you can't deny how adorable it is! Just get a pair of cozy wool socks and attach a cute notecard saying "You knock my socks off!"
Such a corny yet charming DIY Valentine's gift idea!
9. Romantic Shoebox
Speaking of corny, here's a similar gift you can easily make.
A pair of running shoes in a box with a meaningful message! This would make for a romantic and interesting gift idea to give your significant other for Valentine's Day!!
Don't forget to write the saying on the lid, that's kinda the point!
10. Surprise Breakfast
Wish your Valentine in the sweetest possible way with a box full of donuts and a cute saying to go with it!
Copy this 'donut box' idea by getting a box of different donuts that your significant other likes and then include a cute saying like "Donut worry be HAPPY", "I'm DONUTS without you" and "DONUT you know how much I love you"!.
Super simple and cute gift idea!
11. Candy Bar Card
Who doesn't love candy?! This Candy Bar Card is a super cute DIY Valentine's gift that is really easy to put together and a fun alternative to your traditional Valentine's day card!
You just need to track down the different candy bars, and then get a poster board for writing the card.
12. Memories Box
This Memories Box is a beautiful and thoughtful way to showcase all your memories together, such as shows, concerts, flight tickets, etc, and other events where you went together. All you're going to need is a shadow box with the label "Memories" in the background.
Then you fill it with mementos from all the time you've spent together and surprise him with all the fun times you've had together.
13. Polaroid Box
These DIY wooden polaroid sets are another creative and crafty DIY Valentine's gift idea your significant other is sure to love!
You'll need some wooden polaroid photo frames, some photos from the time you've spent together, and a gift box which you can easily get from most craft stores. You can personalize them by making them into magnets, writing love notes at the bottom, etc.!
This post was all about the best DIY Valentine's gifts to give this year!
I hope you found these ideas for DIY Valentine's gifts helpful!
You may also be interested in…