Note: This post may contain affiliate links. We may receive a small commission if you make a purchase through a link. Please read our full disclosure policy here.
Looking for the perfect gift to give your college graduate? Here are the best college graduation gifts girls will actually want!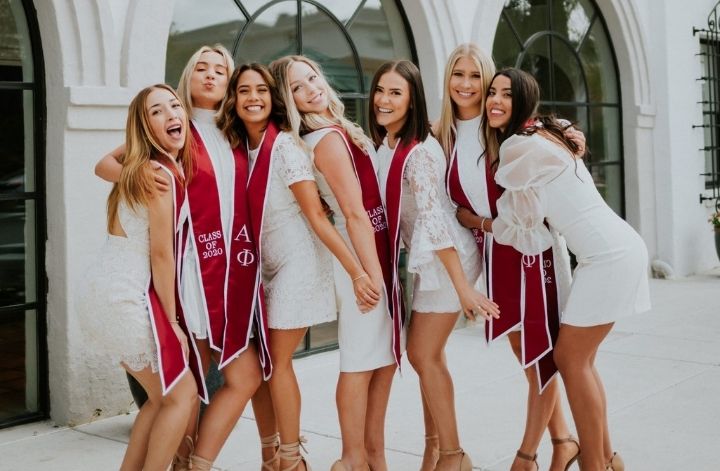 The Best College Graduation Gifts for Her
With graduation right around the corner, you are probably looking for the perfect gift for the college girl in your life.
And you want to get her something special that lets them know how proud you feel and that she'll actually use it in her post-grad life.
Coming from a recent college grad, I know that college students prefer gifts that are actually practical. So I've made a list of all the things that are super popular with college girls and guaranteed to be a gift that they love!
I've included a mix of personalized, higher-end, and inexpensive gift ideas on this list, so there's something for every budget.
Related: 31 Best High School Graduation Gifts For Girls
Here are 27 of the best college graduation gifts for her that any grad will absolutely love and cherish.
1. Working Tote
2. Lululemon leggings
Related: 35 Best Christmas Gifts for College Girls
3. Day Planner
4. Luggage
5. Air Fryer
6. Personalized Spotify Plaque
Related: 29 Best High School Graduation Gifts For Boys
7. Aromatherapy Candles
8. Polaroid Camera
9. Satin Pajama Set
Related: 35 Awesome Graduation Party Ideas That You'll Love
10. College Graduation Gift Basket
11. Custom makeup bag
12. Initial Necklace
13. Personalized Metallic Coffee Mugs
Related: Christmas Gifts for Boyfriend
14. BirchBox Subscription
15. Streaming Service Subscription
16. Instant Pot
Related: 21 Best Backyard Graduation Party Ideas Your Guests Will Love
17. Blue Apron Gift Card
18. Weighted Blanket
19. Personal Finance Book
20. One Line A Day journal
21. Ember Mug
Related: 31 Best High School Graduation Gifts For Girls
22. Jewelry Box
23. Mejuri Hoop Earrings
24. Cookware Set
25. OnCloud Running Shoes
26. Gift Cards
You can honestly never go wrong with gift cards, especially if you don't know the grad so well. They are always a go-to option to give graduates and every college grad is sure to love them!
Some of the best stores for girls, that you could give gift cards to, are Target, Amazon, Lululemon, Starbucks, Etsy, etc.
27. Money
Your college grad is getting into the real world and starting living on her own. So she is definitely going to need a lot of money to pay rent, bills, pay off student loans, and buy food among many other necessities.
So money would be a very welcome graduation gift and one that you can never go wrong with!
These are the best college graduation gifts for her that the grad in your life will absolutely love!
For high school graduation gift ideas, be sure to check out this post: 31 Best High School Graduation Gifts For Girls.
College graduation is one the proudest moments in every student's life and needs to be celebrated accordingly. Hopefully you found this list helpful and have found the perfect gift for the grad in your life!
If you're looking for more ideas on graduation, you may be interested in…