Note: This post contains affiliate links. We may receive a small commission if you make a purchase through a link. Please read our full disclosure policy here.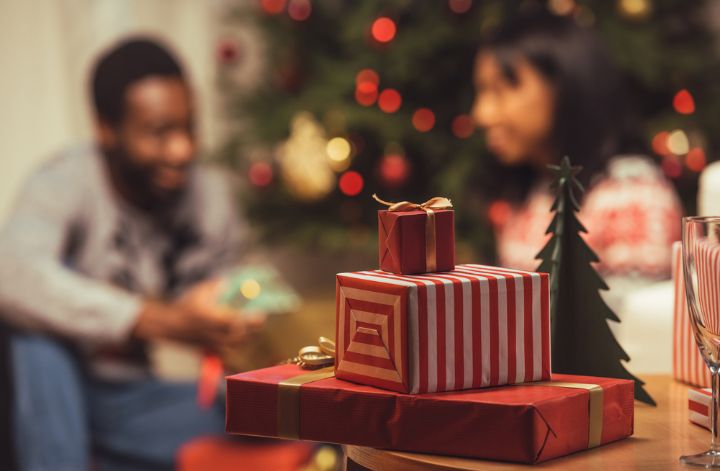 Christmas Gifts for Boyfriend
This post is all about the best gifts for your boyfriend that he is guaranteed to love this Christmas.
Shopping for men, in general, is tough, but finding a gift for your boyfriend can be even more stressful-you want to give him something that's impressive and at the same time will actually be used by them.
So to help you find the perfect gift for your boyfriend, I've curated this list of some incredible gift ideas, from practical to personalized items, that your boyfriend will surely appreciate.
I have included gifts for every budget on this list, so there should be something for everyone no matter what your budget is.
Also, almost everything on this list is available on Amazon with free two day Prime shipping so you'll be sure to get it on time for the holidays! Click here to grab a free 30-day trial of Amazon Prime if you need it for the holidays!
Related: 35 Best Christmas Gifts for College Girls
The Best Christmas Gifts for Boyfriend
1. Travel Duffel Bag
A nice duffel bag would make a wise and thoughtful gift choice for a guy, especially if he has a backpack or a duffel bag that's seen better days.
2. Hey Dude Men's Wally Loafer
Comfortable and stylish, these wally loafers from Hey Dude will not disappoint – he will definitely use them on a daily basis.
3. Vinyl Record Player
Record players are not a thing of the past anymore and if your boyfriend loves music, then he'll definitely appreciate a Bluetooth enabled, vintage-inspired turntable that's easily portable and super easy to fit anywhere.
Plus it's a beautiful piece of room decor and adds a vintage touch to any room it's placed in! It's easily one of the best Christmas gifts for a boyfriend.
4. North Face Insulated Jacket
The North Face brand is a super popular brand with guys and he would very much love to receive this North Face Insulated Jacket as a gift.
It will keep him warm and toasty during the winter, plus he'll look so stylish in it!
5. Deep Tissue Massage Gun
This is something that any guy, regardless of their age, is definitely going to appreciate.
This deep tissue massage gun comes with 6 different heads targeting different muscle groups, is great for relieving neck pain or back pain and will leave you feeling oh sooo relaxed! You just might be tempted to keep this for yourself, but try not to.
6. Cold Brew Coffee Maker
For the coffee loving guy in your life, this Cold Brew Coffee Maker makes a great Christmas gift. He can brew, chill, serve and store the cold brew, all in the same pitcher. Just add ground coffee, and cold water and refrigerate till ready.
He can use it to brew 4 servings of smooth cold brew with any type of coffee grounds in one go and it will supposedly stay good in the refrigerator for up to 2 weeks!
7. UGG Men's Ascot Slipper
These are super soft, and lightweight, and will keep his feet comfortably warm! These cozy and comfy UGG Men's Ascot Slippers are a thoughtful and useful gift any guy would love to receive. He will cherish them for years to come thanks to it's high quality!
8. Personalized Leather Wallet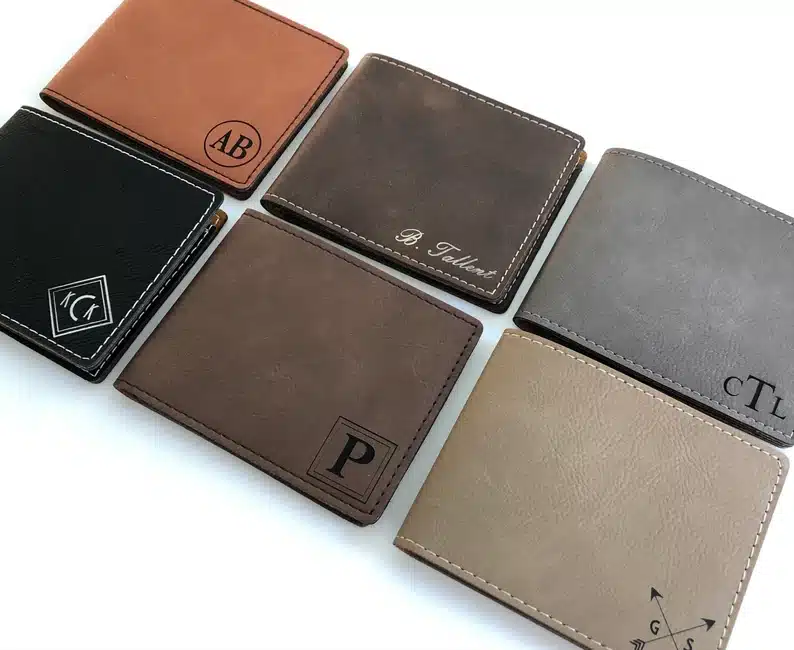 A wallet is a classic gift for guys in general. So a sleek wallet personalized with his custom initials or engraved with a small message on the inside as a surprise would be a heartwarming and useful Christmas gift idea for guys.
I really like this option from Etsy – you can choose from a variety of colors and styles and it's made from vegan leather!
9. Personalized Glasses Case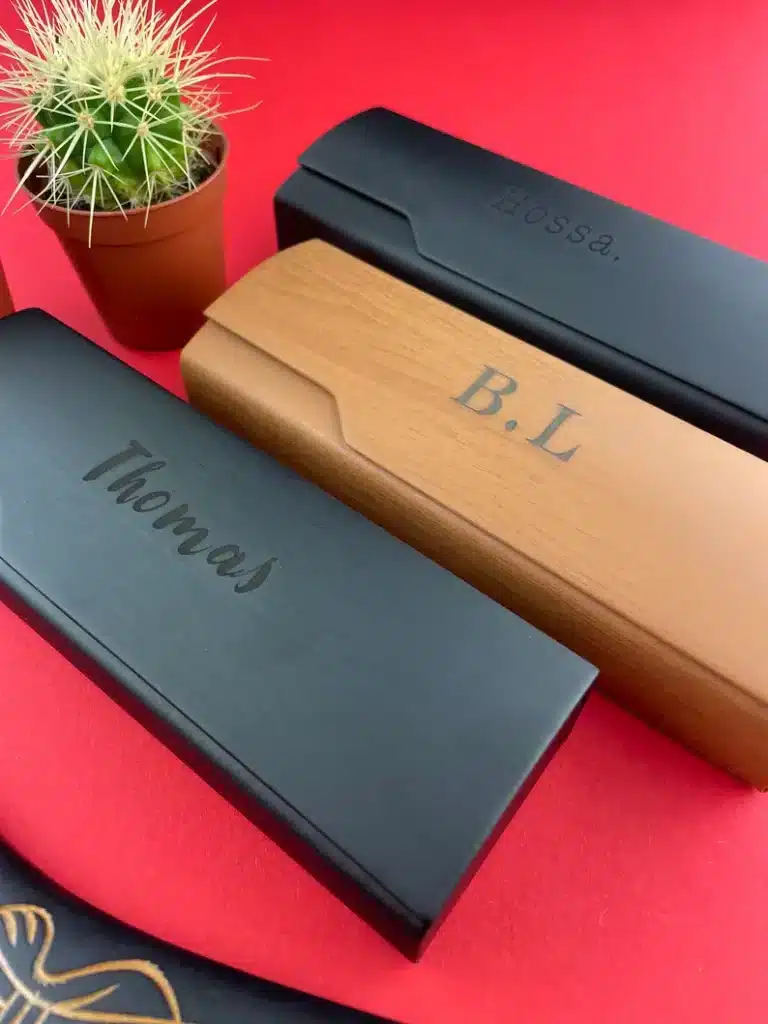 Fashionable and functional this personalised glasses case is another great gift idea for guys. He can use it to protect his glasses or sunglasses.
10. Wireless Charging Station
A wireless charging pad that can be used for charging a phone, apple watch and airpods, all at the same time, is a great Christmas gift idea that is sure to be appreciated!
He can have all his important gadgets properly organized and charging at the same time – all in one place! No more messy cords and cluttered desks.
11. A Dopp Kit
Speaking of practical gifts, if your boyfriend loves travelling then he'll need a dopp kit to hold all his toiletries.
This particular dopp kit has got great reviews on Amazon. With loads of organizational compartments including a separate waterproof front pocket, this will be a thoughtful yet amazing gift idea for guys.
12. Beard Grooming and Trimming Kit
This can feel like a pretty basic gift, but for the guy who loves his beard, a quality beard grooming and trimming kit is something he absolutely needs.
The BRAUN grooming and trimming kit comes with an ear and nose trimmer, hair trimmer, body groomer, clean shave razor, and a beard trimmer. He will definitely love and use this Christmas gift idea!
13. Comfy Robe
A comfy robe is something you can't go wrong with. He can slip into them work and feel utterly relaxed and warm throughout the evening!
14. Wrangler Flannel Jacket with Hood
Looking for a stylish yet useful gift idea? This flannel jacket from Wrangler is an extremely versatile wardrobe staple that suits any occasion!
It's lightweight and cozy with it's warm and breathable fabric and still very stylish. He'll love layering this over a shirt or sweatshirt.
15. Cologne
If you want to get your boyfriend started on a a bit of self care, then gifting him a cologne is a great way to do it.
If he has a favorite scent stick with that. If not, this one from Amazon is a super popular choice among guys! It's incredibly affordable at just 18$ and has over 86000 4.5-star reviews on Amazon.
16. Bluetooth Beanie
This bluetooth beanie is such a genius Christmas gift idea! Now he can listen to his favorite songs on his outdoor runs or listen to a book on tape, all the while being warm and cozy! He will absolutely enjoy this gift!
17. Marshall Portable Bluetooth Speaker
For guys that love music, a Bluetooth enable portable speaker is a must have! He can carry it around anywhere he goes – beach, parties, picnics etc.
The Marshall Stanmore II speaker has an old-school vibe but has all the best technical features of a good Bluetooth speaker. But its actually the cool design and the modern-day sound quality that sets it apart from the rest! Plus it's waterproof, quick to charge and can be used without charging for 20-plus hours.
This is admittedly a pricey gift idea. So if you're looking for an affordable option then you can go with this good valued alternative from Amazon!
18. Fleece Joggers
Fleece joggers are pretty popular among guys right now and rightfully so because they are so damn comfortable and warm.
Guys would love to get a nice pair of joggers since they'll be wearing it around in their apartment or sleeping in it all the time!
19. Scented Candle
Not a typical gift for guys but scented candles are always a good gift to give. Guys usually don't spend money them but they'll definitely appreciate this sweet gesture and genuinely use when given as a gift.
Scented candles can make any room feel cozy and tranquil, giving off a pleasant aroma and relaxing vibes! The NEST Fragrances Grapefruit Candle is one of the best fragrances in the market that are reasonably priced. It has a refreshing scent and offers up to 120 hours of burn time.
The Best Christmas gifts for Boyfriend
This post showed you 19 best gifts to give your boyfriend this Christmas. Hopefully, you were able to find the perfect gift for your special one!
For more ideas on Christmas gifts for college students, you may also be interested in these: