Note: This post contains affiliate links. We may receive a small commission if you make a purchase through a link. Please read our full disclosure policy here.
Looking for the best stocking stuffers for college students? Here are 27 stocking stuffer ideas every college student is guaranteed to love!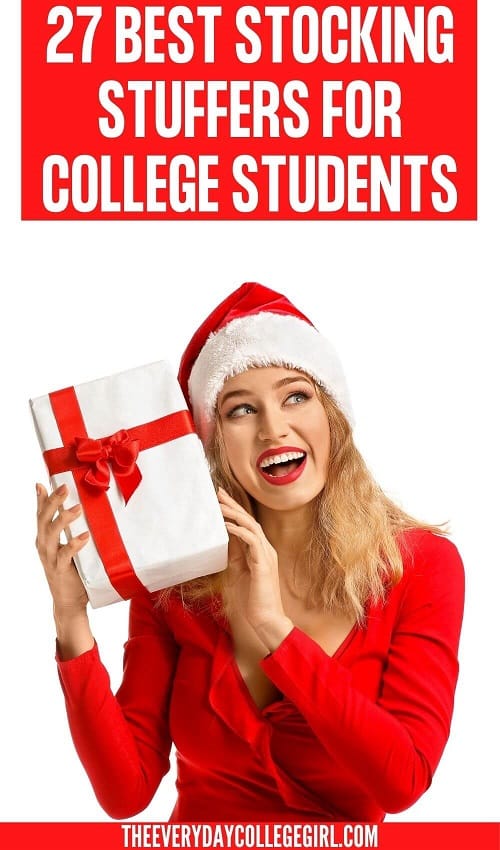 Best Stocking Stuffers for College Students
This post is all about unique and fun stocking stuffer ideas for college students!
Stocking stuffers (also known as stocking fillers) are small, usually inexpensive gifts and treats suitable for placing inside a Christmas stocking.
One of the best parts of coming home for Christmas break is finding gifts in a stocking! With the holidays coming up, it's time to start shopping for the perfect gift to put in your college student's stocking this year.
It can be a challenge to think of something that college students can use and actually want. So, I've rounded up a list of the best stocking stuffer ideas that college students are sure to love.
Also, most of these gifts are available with free two-day shipping on Amazon Prime. If you don't already have Amazon Prime, click here to grab a free 30-day trial of Amazon Prime if you need it for the holidays!
Whether you're looking for something popular or trying to stick to a budget, I've included something for everyone!
Here are the best stocking stuffers for college students:
1. Fuzzy Socks
Socks are always a fun and classic Christmas gift that college students will definitely appreciate. This comfy pair of fuzzy socks will keep her feet warm when walking around the dorms, especially in those cold winter months!
2. Skincare Masks
These hydrating and revitalizing skincare masks are the perfect stocking stuffers for college girls because they're super relaxing and stress-relieving! Plus they are the perfect size to slip into a stocking! Let your college student have a spa-like experience even from their dorm room!
3. Touchscreen Gloves
These touchscreen gloves are an amazing stocking stuffer idea for college students! Not only will they keep their hands warm but will also allow them to use their hands to use touchscreen device without having to remove their gloves! Let them stay warm and type away!
4. Keychain Holder for Hand Sanitizer
I personally received this little hand sanitizer keychain as a gift last Christmas and it's been so incredibly useful to me! Help your college student stay clean and healthy in the year ahead with this thoughtful gift that they can very easily carry around in their pocket!
5. Planner Stickers
Does your college student love to stay organized? Then a pack of planner stickers is a super inexpensive stocking stuffer for them they're sure to appreciate.
6. Portable Charger
Another inexpensive gift that makes a great stocking stuffer for college students is a portable charger, so she can make sure her iPhone or other devices stay fully charged.
They're seriously a lifesaver during college and absolutely essential when traveling, leaving the dorm for long, or when the power fails.
7. Tile Mate
If you have a college student in your life who's always misplacing their keys or wallet, then Tile Mate would be the perfect stocking stuffer idea for them.
It's a little Bluetooth-enabled gadget that can be attached to their easy-to-lose accessories and it tracks them through an app in case they ever misplace them! No more lost keys! 😀
8. PopSocket
A popsocket phone grip is such a cute phone accessory and affordable stocking stuffer idea for college students!
It's a very useful gadget that makes it easy to grip your phones or tablets, can double as a stand and would look so cute on your phone! There are plenty of different cute designs on Amazon you can choose from.
9. Extra Long Charging Cords
Extra-long charging cords are another great yet inexpensive stocking stuffer for college students!
This six-foot cord is so handy for charging your phone if you're on your bed or another place further away from an outlet. Plus if your college student is always losing their charging cords, they'll be glad to have an extra!
10. Candle Warmer
Since most dorms don't allow you to burn candles, a candle warmer is something that is guaranteed to be appreciated by college students. Pair it with a few scented candles and you have the perfect inexpensive stocking stuffer this Christmas!
11. Makeup Eraser
If your college student loves to do makeup, then this reusable makeup eraser would be such a wonderful stocking stuffer idea! This plush cloth when used with water can clear away all traces of makeup, even waterproof formulas!
It can easily be machine-washed up to 1,000 times and is a much better option than using wasteful makeup wipes.
12. One Line A Day Journal
This One Line A Day Journal would make for a great stocking stuffer for college students because they can use it throughout their college to keep a record of their college years in just a few sentences a day.
It's also a fun way to take a look back and see how their lives have changed every year!
13. Silk Pillowcase
Silk pillowcases are the best pillowcases for your hair and skin because the ultra-soft material causes less creasing than regular pillowcases
It's the perfect unique Christmas stocking stuffer for your college student and they will be absolutely delighted to receive it!
14. Journaling pens
Upgrade the old-school desk accessory with these colorful journaling pens that are designed for notetaking, journaling, and more! And since they're made with water-based ink, you won't get any bleed-through on your paper after using them. Such an amazing stocking stuffer for college students!
15. Hoop Earrings
Hoop earrings are all the rage right now and a great everyday piece of jewelry! They are super cute and stylish, yet not too expensive. These tiny gold hoop earrings would be a lovely stocking stuffer for college girls!
16. Shower Steamers
These rejuvenating shower steamers are the best solution for college students to have a spa-worthy experience when living in dorms! They just need to drop one of these scented fizzies into the corner of their shower to have a stress relieving spa experience.
You can find a bunch of options on Amazon with great reviews., but I personally like this shower steamer set which comes in these 6 different scents – Lavender, Menthol/Eucalyptus, Vanilla, Watermelon, Grapefruit and Peppermint.
17. Muscle Massage Roller Ball
This cold therapy muscle massage rollerball is the perfect stocking stuffer for college students, especially if they play sports!
You can roll this cold therapy ball over your tired muscles and immediately get relief from inflammation, tension, and muscle soreness. It uses a cold gel technology that allows the roller to hold temperature for up to 20 minutes after taking it out from the freezer.
18. Compact Ice Cream Maker
How lovely is this compact ice cream maker?! It's such a fun idea for a stocking stuffer for your college student and I guarantee your college student will absolutely love this!
All they need to do is chill the bowl overnight and add all the ingredients to make their own fresh ice cream, gelato, sorbet, or frozen yogurt with just the push of a button in just under 30 minutes. Plus it costs only $20!
19. Mario Badescu skincare set
Your college student will love finding these Mario Badescu facial spray sets buried in their stocking! These rosewater-scented and green tea and aloe scented facial sprays would be a great stocking stuffer for college girls which will last them all winter long and will keep their skin hydrated during the cold-weather months!
20. Hand Warmers
If your college student goes to school somewhere with very cold winters, then this is a great stocking stuffer idea to give them.
This set of 40 tundras hot hand warmers will really help your college student to keep themselves toasty warm, even on the coldest winter days! They can easily slip these handwarmers into gloves, pockets, socks, or boots well for keeping them warm.
21. Nail Polish Bottle Holder
This wearable nail polish bottle holder makes it super convenient to polish your nails without worrying about spills or smudges. This would be a good stocking stuffer for college girls to give along with a couple of bottles of nail polish!
22. Reusable Straw
Help your college student be more eco-friendly by gifting them these reusable stainless steel straws that they can carry with them at all times!
And when they're not being used, you can collapse the straw to fit inside its case and attach it to your keychain or bag till next use! Such a great stocking stuffer for college students!
23. Lip Balm
You can't go wrong with a pack of lip balms as a stocking stuffer for your college student.
This set of four Burt's Bees lip balm can go a long way in helping them keep their lips hydrated and protect them from the cold winter air!
24. Portable Bluetooth Shower Speaker
If your college student loves to listen to music in the shower, then this waterproof speaker is guaranteed to be a hit of a Christmas gift!
It's small enough to fit on a shower shelf and since it's bluetooth-enabled, your college student can seamlessly stream their favorite music or podcasts while in the shower!
25. Ninja Multi Tool
An 11-in-one multi-tool like this one is super useful to have on hand and small enough to fit inside a wallet. It includes a can opener, ruler, wrench, flat screwdriver, cutting edge, beer bottle opener, and much more!
26. Personalized Mugs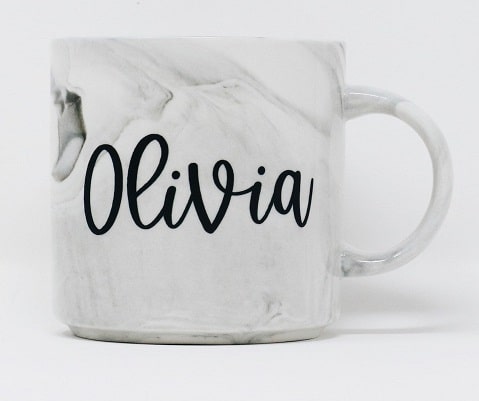 Personalized mugs are such a great customized stocking stuffer for college students! It's the perfect way to make your college student feel loved and valued.
You can pick a name, quote, or whatever you feel fits best. Just be careful with it after putting it inside the stocking!
27. Money
Finally, when in doubt… gift them money!
I don't think any college student will be unhappy to receive some money in their stocking. Even if it's just $10 or $20 it'll surely be appreciated!
More Stocking Stuffers for College Students
If you're looking for even more ideas, here are some more fail-proof ideas for stocking stuffers for college students to give them this Christmas.
Gift cards
Sticky notes
Lottery Tickets
Candy
Cookies
Popcorn
Beef jerky
Mixed nuts
Scrunchies/ Hair ties
Socks
Underwear
Beanies
Wallets
Nail kits
Razor blades and shaving cream
Phone case
Dry shampoo
Hand sanitizer
Earplugs
Magazines
Card game
Rubik's cube
Laundry detergent/ dryer sheets
Looking for more gift ideas for college students?
This post showed you the best stocking stuffers for college students.
Looking for more Christmas gift ideas for college students? Here are more posts you may like: