Note: This post contains affiliate links. We may receive a small commission if you make a purchase through a link. Please read our full disclosure policy here.
Are you looking for dorm room ideas guys can easily copy? Here are the best dorm room ideas for guys you'll want to recreate!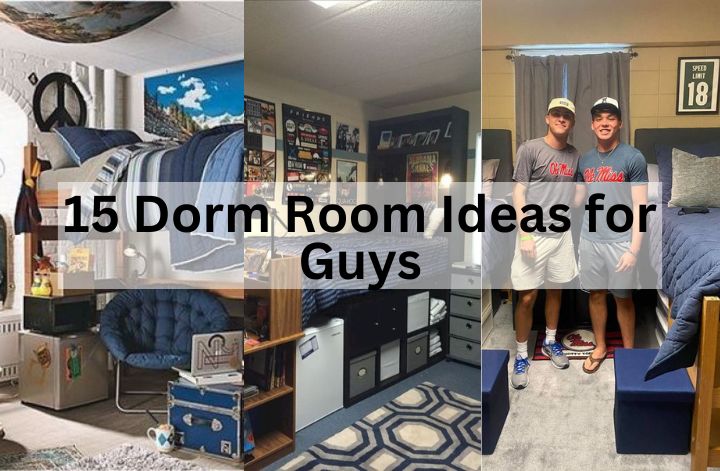 Dorm Room Ideas For Guys
This post is all about the best dorm room ideas for guys.
Moving into college comes with a lot of challenges – meeting new people, living with new roommates, and on top of that you'll also have your studies and extracurricular activities to manage.
The best possible thing you can do to make a smooth transition into college life is by turning your dorm room into your own space.
But decorating a boy's dorm room is one of the hardest things to do! Unlike girls, there aren't many decor ideas or inspiring dorm room pictures for guys that you can find on Pinterest.
So to help you out, I've come up with this list of 15 practical and cool ideas for guys to decorate their dorms! Not only will these make your college dorm room feel cozy and like home but at the same time will reflect your personality as well!
Related: 45 Insanely Useful Dorm Room Essentials For Guys
P.S: Amazon is one of the best places to shop for dorm essentials. Almost all of these items are available on Amazon along with free two-day shipping through Amazon Prime! Grab a free 30-day trial of Amazon Prime here if you don't already have it to get the best deals on Prime Day!
1. Use Music Posters as Wall Decor
Posters are always an excellent wall decor idea for guys' dorm rooms! They make dorm walls look fantastic, are budget-friendly and you can customize them just the way you like.
So, if you're a music lover, don't keep all your poster collections hidden away! Also, place a couple of vinyl records along with your favorite music posters to complete the artsy wall display.
This is the perfect idea to decorate your walls without spending a ton on wall decor.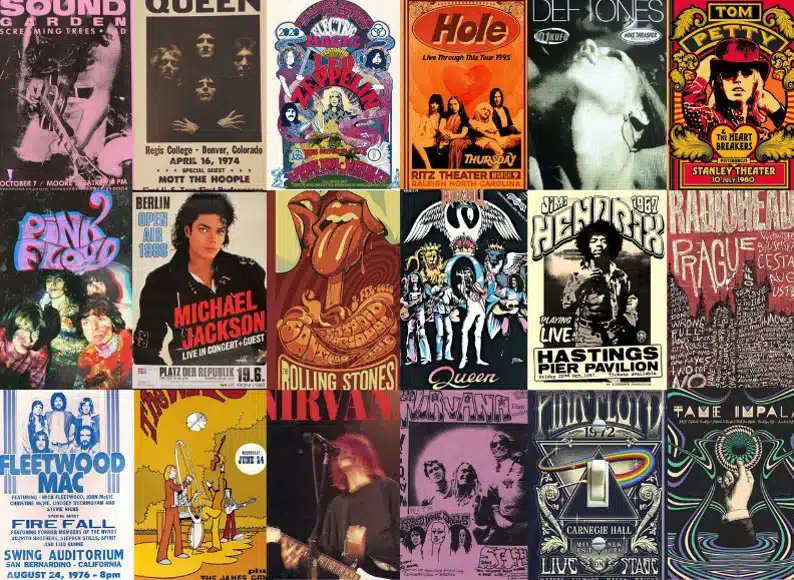 2. Hang Tapestries
Tapestries are an incredibly popular wall decoration for dorm rooms, both guys and girls alike. You can find tapestries in so many different designs that fit pretty much anyone's taste.
Tapestries can enhance the overall interior décor of the room and make it look so cozy! You can hang them anywhere – on the wall behind your bed, above your TV, or even on your ceiling.
3. Use the Space Under Your Bed
Dorm rooms are usually tiny and do not have much storage space. So you need to take advantage of whatever space is available to you, like the space under your dorm bed!
These cube storage boxes are super functional and inexpensive! I really like placing them underneath a slightly lofted dorm bed to store things like shoes, school supplies, extra clothes, big blankets, etc.
If you want to free up more storage space, lofting your bed is a great idea to achieve this. You could fit your futon, your desk, or even a mini fridge into this area!
Related: 15 Dorm Room Organization Essentials That Will Save Your Life
4. Decorate with Vintage Posters
Vintage posters are a great decorative piece for dorm rooms.
Decorating with posters that suit your passion, whether it be movies, science fiction, art, cars, or any other subject is a really cool dorm room idea for guys and is super easy to implement.
All you have to do is stick your posters onto your ceiling with double-sided tape or command strips.
5. Create A Seating Area
If you have the space for it, then you should definitely consider getting a futon for your dorm room!
Futons are a super popular seating idea for college dorms. They don't take up too much room, they're pretty affordable, and they can be easily folded out for when you have guests sleep over.
I'd also recommend getting a storage ottoman or a storage trunk to act as an improvised coffee table. That way you not only have a genius seating arrangement for your dorm room but also extra storage space for your stuff, which I'd consider a win-win situation!
6. The Man Cave
The man cave idea is one of the coolest dorm room ideas for guys! It's great because it's like having your own comfortable space when you want to hang out by yourself!
You can set this up any way you want – with a comfy Papasan chair and pillows, string lights, a couple of your favorite posters, or anything to give more cozy vibes.
7. College Themed Decor
Add a touch of college spirit to your dorm room with a couple of big university pillows, blankets or even flags – it's the perfect way to show off your school spirit without going overboard. And you can find many university-themed decor items on Amazon.
Related: 15 Boho Dorm Room Ideas For Your College Dorm
8. Cool and Classy
This college space is literally 'WOW'!
Decorated with beautiful posters and matching bedding sets this dorm room looks so calming yet put together!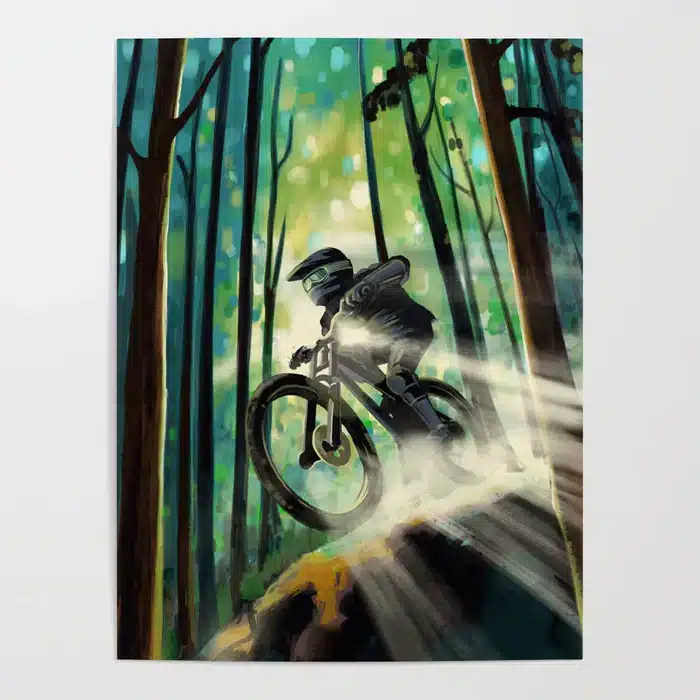 9. Maximize Space With a Clothes Rack
Getting a clothes rack is seriously one of the best dorm room ideas for guys. This rolling clothing rack is the perfect size for dorm rooms without taking up too much space.
It is not only insanely useful for hanging your outfits and keeping your dorm room tidy but also adds a decorative accent to the whole room.
10. Coordinate With Your Roommate
Coordinate with your roommate and get matching decors such as comforters, headboards, desk displays, ottomans, etc so that your room looks more put together.
11. Create extra Desk Space with a Desk shelf
Using a desk shelf is one of the best ways to add additional storage and keep your desk organized. Also. a clutter-free desk can improve productivity and help you get things done faster.
Related: 10 Best Dorm Desk Essentials to Keep You Organized
12. Get a Patterned Rug
A rug is a great way to make your dorm room feel cozy and lived-in and a patterned rug effortlessly elevates the entire aesthetics of the room. Plus, having a rug means you'll not be walking around barefoot on cold tile floors all the time!
Related: 10 Stylish and Cozy College Dorm Rugs Perfect for Your Dorm Room
13. Decorate with lights
Using string lights or neon lights is one of the most classic dorm decor ideas. It will make any room look instantly brighter and more fun! You can hang them under your bed, over your desk, on the walls, etc.
These rope lights would make guys' dorm rooms look so cool! You can find this in a variety of colors on Amazon so you can personalize it to your tastes!
14. Decorate with flags
Flags are a super popular decor idea for guys' dorm rooms. They fill up a lot of wall space and make your dorm room look so cool!
15. Keep it Minimal
If you're someone who doesn't prefer a lot of decors, then it's better to keep everything simple and minimalistic.
Just get a bedding set in white or neutral colors and pick some essential furniture and minimal decorations! This will be the perfect dorm room idea for guys who want to keep it simple yet functional!
More Dorm Room Ideas
This post showed you all of my favorite dorm room ideas for guys that will make your dorm the coolest on your hall!
For a complete list of EVERYTHING you need for your dorm room, check out The Ultimate College Packing List For Freshman
For more college dorm room tips and ideas, check out the following posts: