Note: This post contains affiliate links. We may receive a small commission if you make a purchase through a link, at no extra cost to you. Please read our full disclosure policy here.
This post is all about the complete college packing list for 2022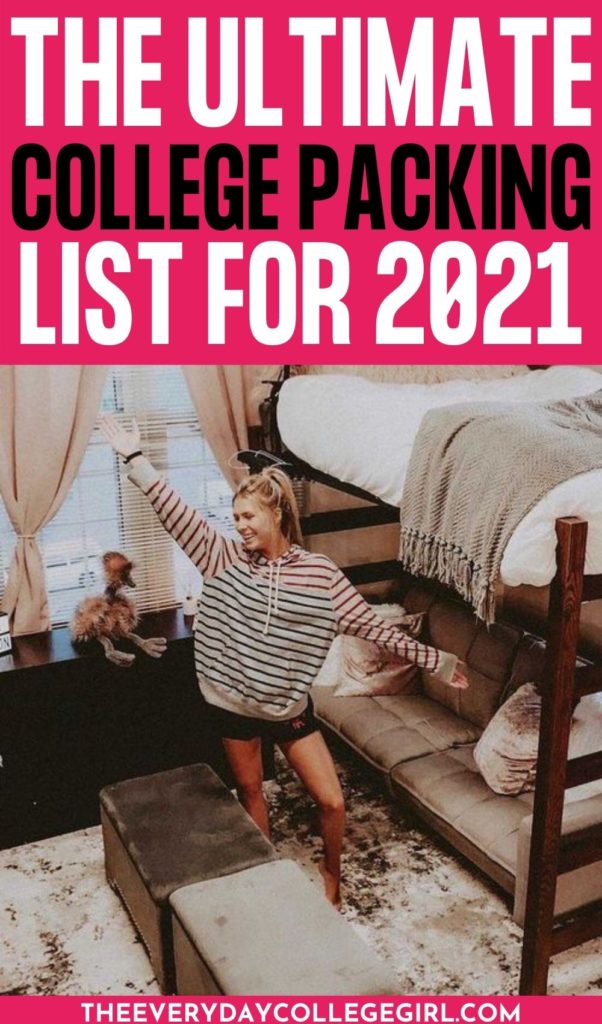 The Best College Packing List
Deciding on what to bring to college can be incredibly overwhelming and stressful. There are a lot of things to consider when packing for college and it will be tough to keep track of everything.
I remember being so confused about what and what not to include in my college packing list that I ended up leaving out a lot of the things I actually needed.
That's is why I decided to put together this ultimate college packing list that contains everything you need when moving into a dorm. This is the college checklist I wish I had when I started college!
The Ultimate College Packing List for 2022
This college packing list goes through everything you will need! These are all things you will actually use every day and you definitely don't want to forget to them bring with you!
Dorm Bedding Essentials
Dorm beds are not exactly known for being the most comfortable. And since you'll be spending a lot of time in your bed, making your bed as comfy as possible is very important! These are the dorm bedding necessities every freshman needs to have a super comfortable dorm bed!
Mattress cover
Twin XL sheets (2 sets) (double-check the size with your particular dorm first)
Pillows and pillowcases
Bedrest pillow
Blankets
Throw pillows
Toiletries
Whether you are sharing a dorm bathroom on your dorm floor or have your own college bathroom, having these items will make it SO much easier to survive college life.
Bath towel, hand towel, and wash clothes ( 2 sets of each)
Bathrobe
Hair wraps
Shampoo
Conditioner
Soap and soap container
Shower cap
Deodorant
Shaving kit
Toothbrush
Toothpaste
Tampons & pads
Tissue
Nail Clippers
Medicines
Related: 7 Dorm Bathroom Essentials Every Freshman Needs
Clothing, shoes and accessories
I know you may want to bring your entire closet with you when moving into college! But remember that dorm closets are going to be really small and you will be running out of space soon. So here's a list of all of the basic clothing essentials you'll want to include on your college packing list.
Shirts
Tank tops
Pants
Shorts
Jeans
Leggings
Sweatpants
Sweaters
Going Out Dresses
Sweatshirts
Pajamas
Workout clothes
Professional clothes
Belt
Coat
Swimsuit
Scarves
Hats
Underwear
Bras
Socks
Sandals
Heels
Boots
House slippers
Rain jacket
Rain boots
Winter coat
Handbags
Purse
Jewelry
Electronics
Here is a list of all the essential electronics that you'll need to make your college life more efficient!
Laptop and charger
USB drive
External hard drive
Extra batteries
Desk and School Supplies
Don't go overboard with the supplies and shop only what is absolutely essential! You'll get a better idea of what supplies you're going to need once you get to school. So here is a list of the basic supplies for school that you need to pack!
Notebooks
Pens and pencils
Highlighters
Markers
Pencil pouch
Paper clips and binder clips
Ink cartridges
Printer paper
Scissors
Tape
Stapler
Sticky notes
Related: 10 Best Dorm Desk Essentials to Keep You Organized
Cleaning
Having a clean dorm room was very important to me because it made me happy and more productive! Here are some dorm room cleaning essentials that will help you keep your dorm room sparkling clean and smelling good!
Disinfectant spray/ wipes
Laundry bag
Laundry detergent
Wrinkle release spray
Paper towels
Trash bags
Dryer sheets
Related: 8 Dorm Cleaning Supplies Every College Freshman Needs
Kitchen
During freshman year you're most probably going to be eating at the dining halls! However, there are a few essentials you should have for the times when you don't feel like going to the dining hall for food. Here are some of the best dorm-friendly kitchen items that you'll find really useful when living in a dorm!
Food storage
Snacks like popcorn, granola bars etc
Coffee
Mugs
Ziploc bags
Decor and Organization
While decorating your dorm room is the most fun part of moving into college, make sure to also make your dorm room functional and homely! These items will make your room super cute as well as more comfortable!
Organization essentials
Futon
Room decor
Rug
Related: 15 Dorm Room Organization Essentials That Will Save Your Life
Documents
Keep all your important documents together in a secure file to ensure none of them goes missing. These are some of the documents that are going to be super important for you when living in college!
ID card
Driver license
Social security card
Debit/credit card
Student ID
Medical and dental cards
Miscellaneous
Umbrella
Mirror
Earplugs
Flashlight
More College Dorm Ideas
This post was all about the complete college packing list for 2022.
I hope you found this college packing list helpful! Make sure you don't forget anything when you head off to college.
If you're looking for more ideas on college essentials and tips, be sure to check out the following posts: