Note: This post contains affiliate links. We may receive a small commission if you make a purchase through a link, at no extra cost to you. Please read our full disclosure policy here.
This post is all about the best dorm desk essentials.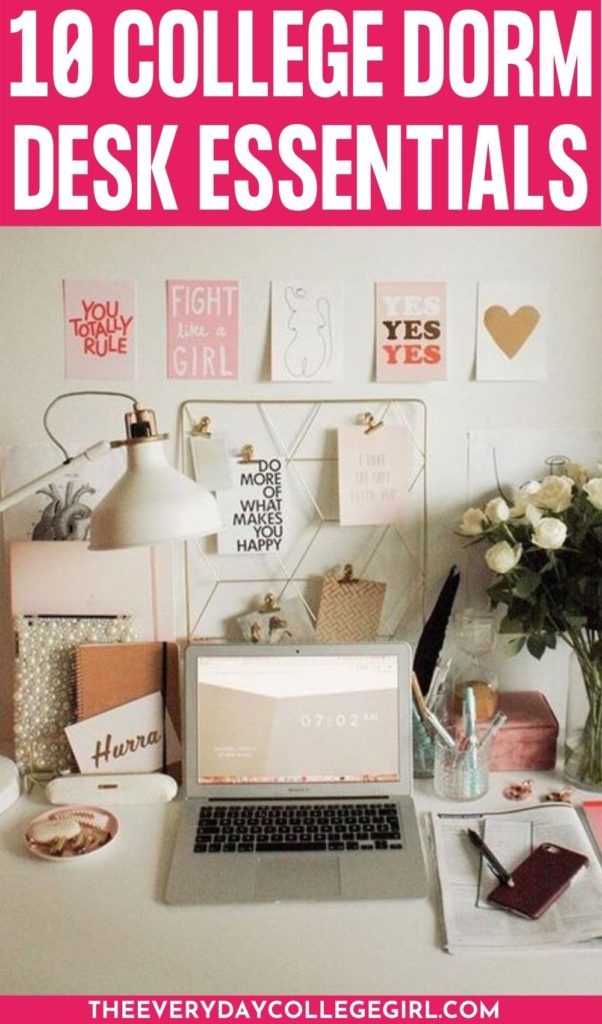 Dorm Desk Organizers Every Student Needs
Being organized throughout my college years was extremely important to me. I find it really difficult to get any work done if my surroundings are messy, especially my workspace in my dorm room.
Having a clean and organized place to study always helped me stay focused and get everything done much faster.
Even if you prefer studying in the library or coffee shops or any other place around the campus, you're going to have to spend at least some time at your desk in your dorm room doing assignments or some studying.
So you definitely want a clean workspace that's organized and functional too. It will help you to focus and be more productive.
Related: 15 Dorm Room Organization Essentials That Will Save Your Life
Here are the best dorm desk essentials that I recommend that every college student should have.
1. Wall Grid
A wall grid is great for keeping papers and reminders off your desk! It's also a great way to hang your to-do lists, your goals, or motivational quotes.
You can easily hang it on your wall with command hooks. That way you don't have to worry about damaging the walls.
2. Desk Organizer
The most important dorm desk essential that I recommend is a desk organizer. Having one will make your life so much easier!
You can easily keep your desk organized and all your supplies in order by using a desk organizer set. Not only will everything be within easy reach, but it'll also make your desk look neater and put together.
I love this Rose Gold desk organizer set from Amazon! Also, I think it's much cheaper to buy the entire set instead of getting every item in the set separately.
Related: 25 Dorm Room Essentials You'll Actually Use
3. Desk Shelf
A desk shelf is a great way to add some storage to your dorm desk without hogging your desk. You can stash your textbooks, school supplies, or any other miscellaneous items on these shelves.
I love this Jerrie and Maggie adjustable shelf. It's strong and sturdy and lets you store a lot of books and stuff without taking up much desk space, giving you plenty of room to spread out your work!
Also, you can adjust the position and the distance between the two parts making it easy to build it however you want!
4. Lapdesk
Sitting at your desk for a long period of time can make it really uncomfortable and boring! And you'll most probably need to use your laptop for everything related to studies!
Having a lapdesk allows you to easily do your homework or studies while enjoying the comfort of your bed! I like this one because the work surface has both a mouse pad and a phone slot!
5. Desk Lamp
Most dorm rooms provide only one main light and are usually dimly lit, which can put a strain on your eyes when studying or reading at night!
So a desk lamp is a must-have dorm desk essential for improving the lighting in your dorm room. You'll find it especially useful when pulling those all-nighters or during the early morning last-minute exam preparations, and not disturb your roommate!
A clamp-on lamp like this one is a great way to get all the light you need without taking up more of your desk space.
6. Drawer Dividers
A desk drawer full of clutter can be really distracting and will make focusing on getting your work done a huge pain!
Drawer organizers are the perfect way to keeping everything organized inside the dorm desk drawers and make everything look neat. A set of these clear plastic drawer organizers will really help you with that!
Related: 15 Dorm Room Organization Essentials That Will Save Your Life
7. Power Strip
A power strip is another important dorm desk essential to have. Because when it comes to dorm rooms, power outlets are usually in limited supply and usually located in inconvenient places.
And since you will be sharing it with your roommate, things are going to be a little tough, to say the least.
But if you have a power strip with you, you can easily plug in everything right on your desk.
8. Day Planner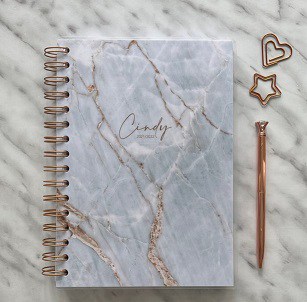 A Day Planner is one of the best organizational tools to keep you super-organized in college. You can use it for keeping track of literally anything, like your assignments, extra-curricular activities, or life in general.
This Marbled planner has got great reviews on Etsy. You can easily customize it with your name and choose a starting month that you like. How convenient is that?!! Plus, it looks super cute too!
If you're looking for a more budget-friendly planner, then this planner is a super cute option, which has got some great reviews as well!
Related: The Most Productive College Morning Routine
9. Sticky Notes
Sticky notes are absolutely essential in helping you stay organized and focused!
Using sticky notes is a great way to help you keep track of your assignments or coordinate your studies. They are great for bookmarking pages in textbooks, making to-do lists, jotting down reminders, and keep notebooks and binders organized by labelling them in different colors.
10. Transparent Makeup Organizer
Dorm desks are definitely going to be used for so much more than just studying. I was keeping all my makeup products in a makeup bag, which wasn't exactly convenient! But I couldn't exactly keep everything on my desk.
Which is why I bought a transparent makeup organizer, like this one, to store all of my makeup products on my dorm desk. It allows you to see everything stored inside as well as keep all your makeup looking tidy and organized.
You can easily keep your desk clutter-free as well as save time by quickly doing your makeup. 🙂
These are the best dorm desk essentials I recommend every college student should have to stay organized and productive!
These dorm desk essentials will help you easily optimize your workspace and stay focused and motivated!
More Dorm Room Ideas
For more posts about dorm living, be sure to read the following: