Note: This post contains affiliate links. We may receive a small commission if you make a purchase through a link, at no extra cost to you. Please read our full disclosure policy here.
The Ultimate List of Dorm Bedding Essentials
This post is all about the best dorm bedding essentials.
Dorm beds are not exactly known for being the most comfortable. And since you'll be spending a lot of time there, you'll want it to be as comfy as possible!
So I have made a list of all the dorm bedding must-haves you will need to live in your freshman dorm this year! Seriously, they are super affordable and will make your bed feel like a cozy haven!
For a detailed college packing list, check out The Ultimate College Packing List.
Here are the dorm bedding necessities that you'll need when moving into your dorm!
1. Mattress Topper
A memory foam mattress topper is a must-have dorm bedding essential! It's a great way to make those hard dorm mattresses way more comfortable and let you get some good quality sleep!
Plus, you don't even know who all might have slept in your dorm bed before you!
This four-inch memory foam mattress topper is the perfect option for dorm beds. They are much cheaper than buying a new mattress for your dorm!
2. Mattress Protector
A mattress protector helps protect your mattress and keep it looking clean and fresh all the time!
I like this mattress protector because it makes the mattress more breathable and can keep your bed a bit cooler. It's also really cheap and a great way to add more protection and comfort!
3. Sheets
Dorm sheets are a must-have dorm bedding essential and you can easily get them from Amazon! The majority of dorm room beds are actually a Twin XL size, so you'll probably need to get Twin XL size sheets to fit your dorm bed properly.
These sheets from Amazon are so affordable and comes with one fitted sheet, one flat sheet, and one pillowcase. Super value for the money!
4. Comforter
I looove shopping for comforters! There are so many options available in different color palettes and textures that you can color coordinate with your room and make it more YOU! Plus, they make your dorm bed so much more comfortable to sleep in!
If you don't mind splurging a little, you can find a lot of super trendy and cute options on Dormify and Urban Outfitters! I personally used a grey quilted comforter set that I bought from Amazon but the exact same option is no longer available. But I could find a pretty similar match on Dormify!
And if you're looking for something affordable, this comforter set from Target costs only $36 and is available in 20 different colors!!! How CRAZY is that???!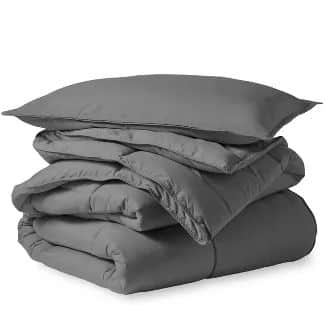 5. Memory Foam Pillow
Along with a mattress pad, a memory foam pillow can really help you get some good quality sleep.
I like this memory foam pillow from Amazon because it's got temperature control properties and offers pressure relief! It's super cheap and will make your bed feel much more comfortable!
6. Throw Pillows
These are not exactly bedding essential but having some cute throw pillows are a great way to add some decor and elevate the overall look of your dorm bed!
You don't need to go overboard with these! Just a couple of pillows will do the job!
You can find some really cute throw pillows and covers on dormify and pottery barn teen. Even amazon has some really nice options if you're a little tight on budget.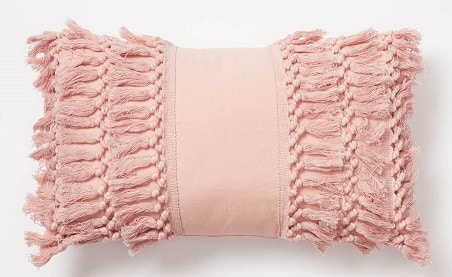 7. Throw Blankets
A throw blanket is the ultimate bedding essential!
You'll definitely need one to keep you warm on those cold winter nights when there's nothing you want to do more than to curl up in a blanket!
They also add some texture and coziness to your bed and make your bed look super put-together and cute! So don't forget to bring a cozy blanket with you to college!
8. Bed Skirt
If you have a dorm bed that isn't lofted all the way, a bed skirt will be perfect to cover up your under-the-bed storage! It will completely hide any mess you have!
9. Bedside Caddy
A bedside caddy is such useful bedding essential to have in your dorm room!
You can put your phone, books, laptop, water bottle, medication, and any other important stuff on it at night so they're within easy reach. It's especially helpful if you've lofted dorm beds so that you don't need to get down every time you need something.
10. Bedrest Pillow
It's super important to have a pillow that supports your back and neck while reading, working on your laptop, or watching Netflix in bed or on the floor! It's so much more comfortable than leaning against the hard wall!
This is why a bedrest pillow is another great dorm bedding essential to have in your room! They are made from memory foam that molds to your body and gives you added support!
More Dorm Room Essentials
This post was all about dorm bedding essentials.
For a complete college packing list, be sure to read my ultimate college packing list that enlists EVERYTHING you need to bring to college.
Looking for more dorm room ideas? then be sure to check out the following posts: