Note: This post contains affiliate links. We may receive a small commission if you make a purchase through a link, at no extra cost to you. Please read our full disclosure policy here.
Looking for the best dorm kitchen essentials list? This post is all about the best kitchen appliances college students will actually use!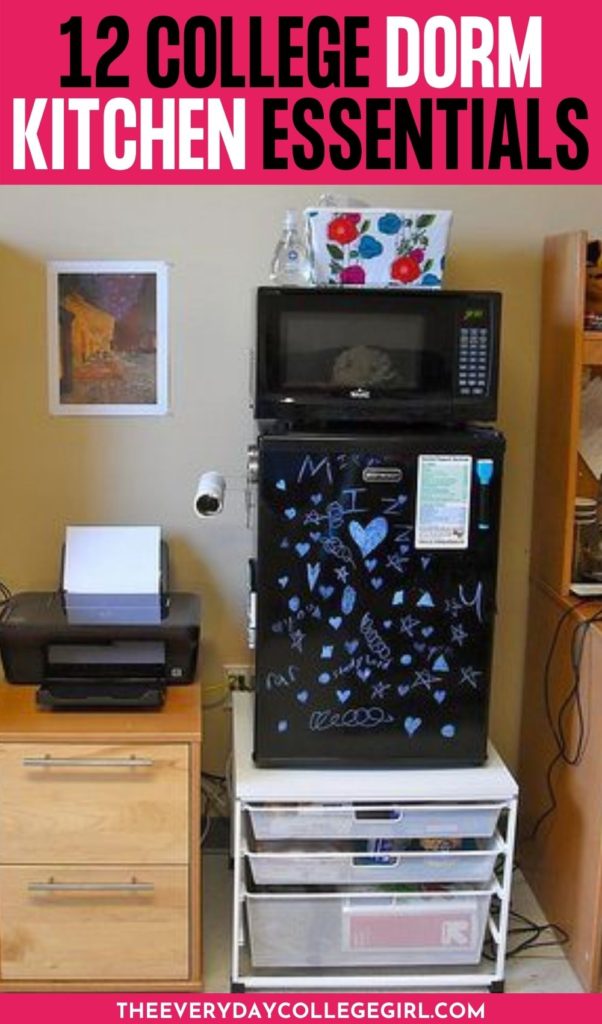 12 College Kitchen Essentials
Cooking in your dorm room can be challenging because most dorms do not provide kitchen appliances or a kitchen area in individual dorm rooms!
Your dorm might have a communal kitchen that you share with the other residents. But since there will be a lot of students and only one kitchen, the waiting line for using the kitchen will also be quite long!
So, here are my top 12 dorm-friendly kitchen items that'll help you set up a great kitchen area in your dorm room! And anything you buy is going to be a great investment since you can take them with you when you move out of the dorm into an apartment or house!
Related: 25 Dorm Room Essentials You'll Actually Use
Amazon is one of the best places to shop for dorm essentials. Almost all of these items are available on Amazon along with free two-day shipping through Amazon Prime! Grab a free 30-day trial of Amazon Prime here if you don't already have it to get the best deals on Prime Day!
1. Microwave
A microwave is going to be your best friend when living in dorms! I really don't know how I could have managed without one since I used it almost every day! Also, imagine all the delicious meals you can make in the microwave whenever the cafeteria food doesn't cut it (like these 25 Easy Microwave Mug Meals You Can Make in Your Dorm)!
This is also something you could split the cost of with your roommate since it's a bit on the pricey side!
But remember to check your dorm restrictions before buying a microwave, some schools don't allow microwaves in individual dorm rooms.
2. Mini Fridge
A Mini Fridge is another important dorm kitchen essential to have in your room, especially if you plan on keeping frozen food or cold drinks in there. It's also great to store fruits, veggies, and other healthy snacks that'll encourage you to eat healthily!
Since it's one of the expensive kitchen appliances you can get for your dorm room, I'd recommend splitting the cost with your roommate, if you'll both be using it!
3. Mini Fridge Stand
If you plan to have a mini-fridge in your dorm room, then this mini-fridge stand with drawers, like this one, is a must-have dorm kitchen essential. Not only is it great to place your fridge on, but it'd also be a great storage option for your silverware, plates, food containers, etc!
This mini fridge stand comes with wheels on the bottom, which I think would be really convenient for when you need to move the fridge around!
4. Food Containers for Snacks or Leftovers
These airtight food containers are an essential dorm kitchen product. They are great for storing leftover food, for meal prepping, or even for storing healthy snacks! Super helpful to have in your dorm room!
5. Mini Keurig
Oooh Coffee!
I love coffee just as much as the next person and let me tell you that this mini keurig is the best coffee maker for your dorm room! It's affordable and is small enough to not take up much space in your dorm but still does the job!
6. Food Storage Cart
Getting a rolling cart is a must for your dorm room. I love three-tiered rolling carts because they're so versatile and can be moved around the room so easily!
It's the perfect dorm kitchen essential. It's a super convenient option for your dorm room to store and organize your snacks, pantry items, cleaning supplies, and much more.
Related: 10 Useful Dorm Bedding Essentials You Need for College
7. Bag Clips
Another really helpful thing to have in your dorm room kitchen is Bag Clips. They are great to keep your snack items closed all the time! That way you can keep your snacks stay fresh and intact for longer.
Also, it's not sanitary to have food lying out in your dorm room since it could possibly lead to pest infestations, which is the last thing you'd want!
8. Tableware/Cutlery
It's always good to have some tableware and cutlery in your dorm room. I love this reusable tableware that comes with plates, bowls, and all the cutlery you'll need for eating in a dorm.
It's also eco-friendly to use when compared to paper plates and doesn't take up a lot of your storage space in your dorm room!
9. Brita Water Pitcher
A Brita filtering water pitcher is vital when living in dorm rooms because drinking tap water every day is just not sanitary! My roommate and I used this all the time and it's super convenient to refill your water bottles with filtered water without having to go to the shared hall kitchen every time!
10. Refrigerator Caddy
A refrigerator caddy is one of the handiest dorm kitchen essentials to have! You can simply hang it over your fridge door and use it to store plates, pantry items, snacks, and more! It's great to keep your dorm kitchen organized!
11. Magic Bullet Blender
Having a personal blender can be a real lifesaver in college! So you slept in and you're running late for your morning class? Just whip up a healthy breakfast smoothie in this blender and you're good to go!
This magic bullet blender is light, easy to clean, and doesn't take up a lot of space in your dorm room! It will fit perfectly in your dorm kitchen!
12. Electric Hot Pot
If your dorm doesn't allow microwaves in dorm rooms, then this electric hot pot is the next viable option to have! This is such a brilliant product that you can use to cook almost anything – oatmeal, eggs, pasta, soup and so much more!
College Dorm Kitchen Essentials
These are the best dorm kitchen essentials for every college student!
I hope you found this post helpful! For more college dorm essentials, be sure to read the following: