Note: This post contains affiliate links. We may receive a small commission if you make a purchase through a link. Please read our full disclosure policy here.
Friendsgiving Decorations Under $25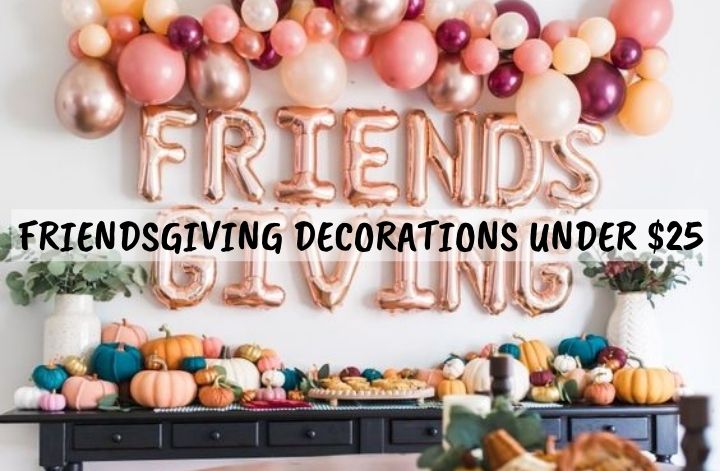 This post is all about the best Friendsgiving decorations!
With Thanksgiving just around the corner, it's time to start planning your Friendsgiving party! And I've got you covered with these cute and affordable Friendsgiving decor ideas!
Friendsgiving is just like Thanksgiving, but instead of family members, you celebrate it with your closest friends. It's a fun get-together for close friends to enjoy each other's company, and eat delicious food! And it's generally celebrated either right before or right after Thanksgiving!
If you're planning to throw a Friendsgiving party this year, I have rounded up a list of the best budget-friendly and super cute Friendsgiving decoration ideas that are guaranteed to make your Friendsgiving party a hit!
Related: 11 Genius Friendsgiving Ideas for Throwing the Perfect Party Ever
If you don't already have Amazon Prime, click here to get a free 30-day trial of Amazon Prime if you need it for the holidays!
1. Friendsgiving Invitations
All great Friendsgiving parties need cute invitations to send to guests beforehand. This gorgeous Friendsgiving invitation will be perfect for your celebration! They're printed on really good quality cardstock and include envelopes as well. I also love these adorable fall flowers and pumpkin invitations as well.
2. Friendsgiving Balloon Banner
This gold Friendsgiving balloon banner is perfect for adding a festive touch to your Friendsgiving celebration! You can get this balloon banner in rose gold foil too!
3. Friendsgiving Photo Booth Props
Photo booths are so much fun at Friendsgiving parties and the perfect way to create beautiful memories! You don't need an actual photo booth for this, you can easily DIY one with a polaroid camera and some cute Friendsgiving photo props!
4. Friendsgiving Banner
This is the perfect Friendsgiving party decor that will fill up the space and make everything look really put together! Also, it would be an amazing backdrop for taking photos!
5. Friendsgiving Napkins
These Friendsgiving napkins are a cute tableware idea for your Friendsgiving celebration. They would be the perfect addition to a fall-themed tablescape!
6. Friendsgiving Paper Straws
1
These fall-themed biodegradable paper straws are the perfect way to spiff up your drinkware! Such a cute touch for your Friendsgiving dinner party!
7. Fall Flower Centerpiece
Fill a vase with a handful of branches and fall blooms, or some artificial fall leaves, to create a pretty centerpiece for your Friendsgiving dinner table.
8. White Pumpkins
Decorating with white pumpkins is a classic and fresh alternative to traditional pumpkin decor ideas! Combine them with a faux flower centerpiece and some candles for a totally chic Friendsgiving decor!
9. Gold Confetti Balloons
No party is complete without balloons! These metallic gold confetti balloons are super festive and instantly brighten up a space! They are so affordable and would be perfect for a Friendsgiving party.
10. Gold Plates and Silverware
This set of gold-trimmed dinnerware containing 25 plates, salad plates, knives, spoons, and forks may look really fancy but they're actually just disposable plastic containers. This set from amazon They're super classy plus it won't require you spending hours washing the dishes afterward.
11. Friendsgiving Cups
These Friendsgiving plastic cups are perfect for any Friendsgiving celebration! On one side they say "Happy Friendsgiving" and on the other side they say "Friends are the family we choose.
12. Fall Themed Garland
How gorgeous is this fall-themed garland with string lights?!
Drape it across your Friendsgiving table, hang it above your fireplace, or drape it over your window for an effortless, elegant look.
13. Funny Friendsgiving Banners
These party banners are hilarious and will definitely get a lot of laughs from everyone! They're perfect to hang across a wall or drape on the front of a table.
14. Paper Placemats
Details like these really make the difference and I promise you your guests will notice!
These Friendsgiving placemats will look amazing on the dinner table! Plus, they will keep your table from getting dirty and can easily be thrown out at the end of the day.
15. Gold Pennants and Wall Garland
Bring some sparkle to your Friendsgiving party with these adorable gold wall decorations! Pair this with some gold confetti balloons from above for some seriously decorated look!
16. Friendsgiving Cake Topper
What's a party without a cake?!
Place this cake topper on top of your Friendsgiving cake (or pie, if you wanna stick with the Thanksgiving theme :D) for a simple yet fancy Friendsgiving decoration idea!
17. Friendsgiving Wreath
This fall wreath would make the perfect wall decoration for your Friendsgiving celebration. It will add a burst of color to your decorations and give your house some festive flair!
This post was all about the best Friendsgiving decorations under $25!
If you're on a budget but still want to throw an epic Friendsgiving party, these decorations are sure to add plenty of glitz and glamor to your party without breaking the bank.
For more Friendsgiving ideas, be sure to read my post with the best tips for throwing a Friendsgiving party!