Note: This post may contain affiliate links. We may receive a small commission if you make a purchase through a link. Please read our full disclosure policy here.
Are you looking for trendy and unique Christmas decor ideas to get into the holiday mood? Here are 21 festive apartment Christmas decor ideas you will love.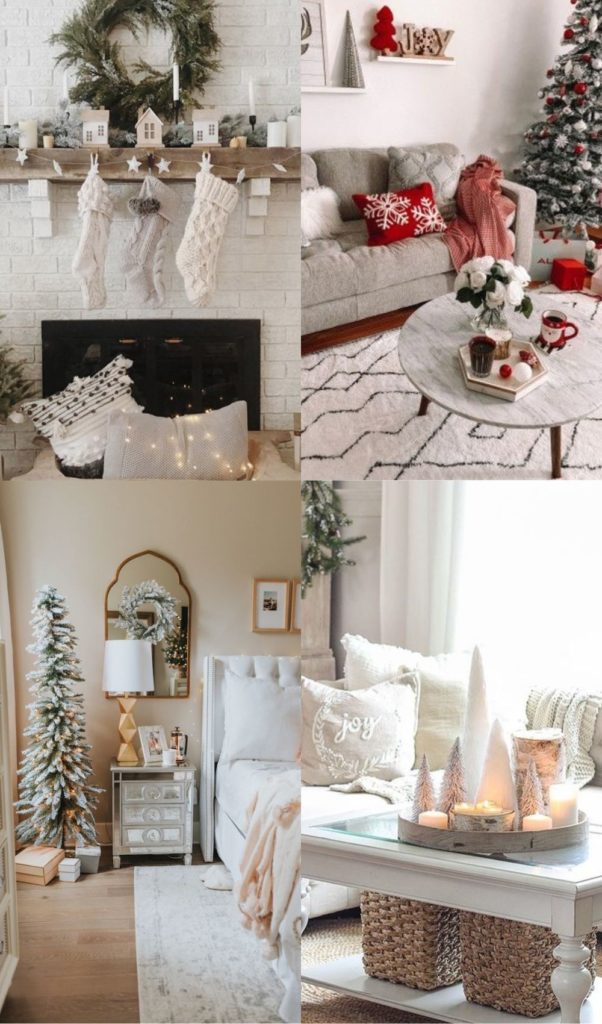 Christmas Decor Ideas For Apartments
This post is all about the best Christmas decorations for your apartment.
Christmas is hands down the best time of the year, and getting our homes ready for the joy of Christmas makes it even better. It isn't really the holiday season until there are wreaths and garlands and candles decorating the place we live.
Whether you prefer trending Christmas decor ideas or traditional decorations, here are 21 elegant apartment Christmas decor ideas that you'll find inspiring and charming and will definitely add holiday cheer throughout your home!
(Most of these items are available on Amazon and available with free two-day shipping through Amazon Prime! Grab a free 30-day trial of Amazon Prime here if you don't already have it and need it for the holidays!)
The Best Apartment Christmas Decor Ideas 2022
1. Decorate your door with a simple wreath
Wreaths are the simplest way to set the holiday charm right at the entrance. But if hanging only a wreath on your front door seems a little boring to you, then a traditional green wreath adorned with bells will be a wonderful alternative to create a welcoming ambiance for the holidays.
2. Decorate the Christmas tree in white
White Christmas decor can inherently make everything seem bright and festive yet elegant and inviting! So a Christmas tree decked in white ornaments is the perfect way to add glitter and grandeur to any room it's in!
You can use a beautiful fuzzy white blanket around the base of your Christmas tree, providing a warm and cozy look while also giving your Christmas tree décorations a final balance.
3. Get festive with green garlands
Creating the holiday vibe in your living room can be super simple and easily achieved.
Faux garlands are a chic and simple way to create a holiday vibe in your home. Place them on your doors, the wall, or the mantel if you have one, for an effortless yet classy Christmas decor idea.
4. Vases with ornaments
Using Christmas ornaments for your centerpieces is such a fun yet festive Christmas decor to have in your apartment. It's undoubtedly one of the easiest Christmas decor ideas you'll find.
All you have to do is place a bunch of Christmas ornaments in a bowl or a hurricane vase, and keep it on your coffee table or dinner table for a seasonal centerpiece.
5. Merry Christmas Garland
A simple burlap garland that reads 'Merry Christmas' is going to look so good in your living room! It instantly brings in a cheery hue and perfectly complements the rest of your Christmas decorations.
Super easy and very budget-friendly!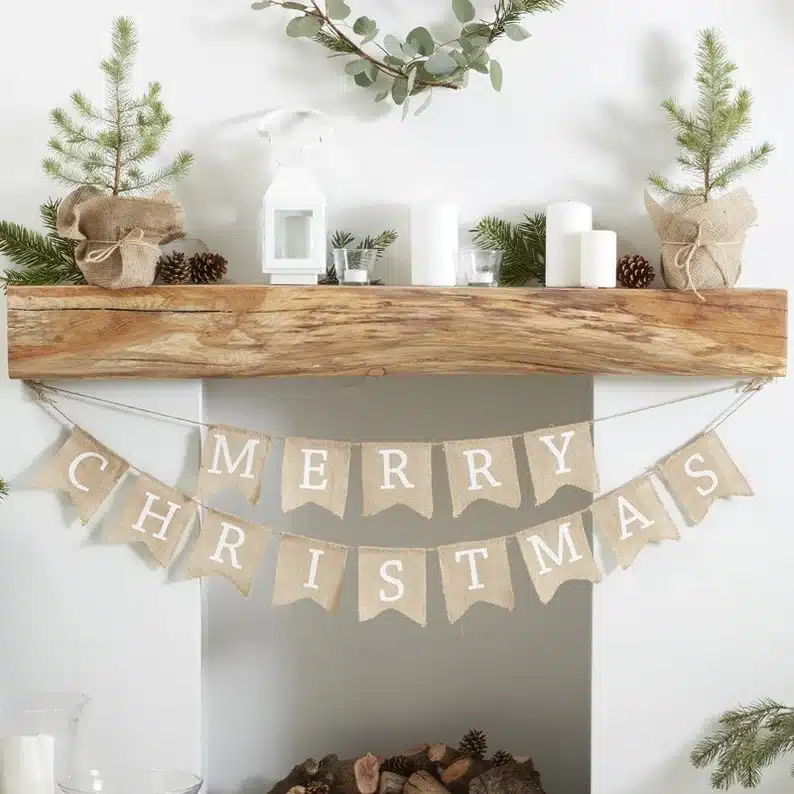 6. Incorporate red accents
Red, white and green are the traditional colors of the Christmas season. So complete the holiday look by thoughtfully adding splashes of red like festive pillows, red ornaments, or berry wreaths to your arrangements.
7. Hang up matching stockings
Stockings are a fail-safe way to bring the holiday spirit to any room. They are a classic Christmas decor idea and a super affordable way to enhance your entire space and get into the holiday vibe.
For a more cohesive look deck out your fireplace or dresser in matching stockings in Christmas colors or plaid patterns, along with a small ceramic village set complete with miniature pine trees, for a snowy winter look.
8. Winterize the windows
It's Christmas, so literally anything can use some extra holiday cheer. So bring some Christmas magic into your rooms with these snowflakes window stickers.
They are cheap, easy to set up, and available in tons of different options on Amazon!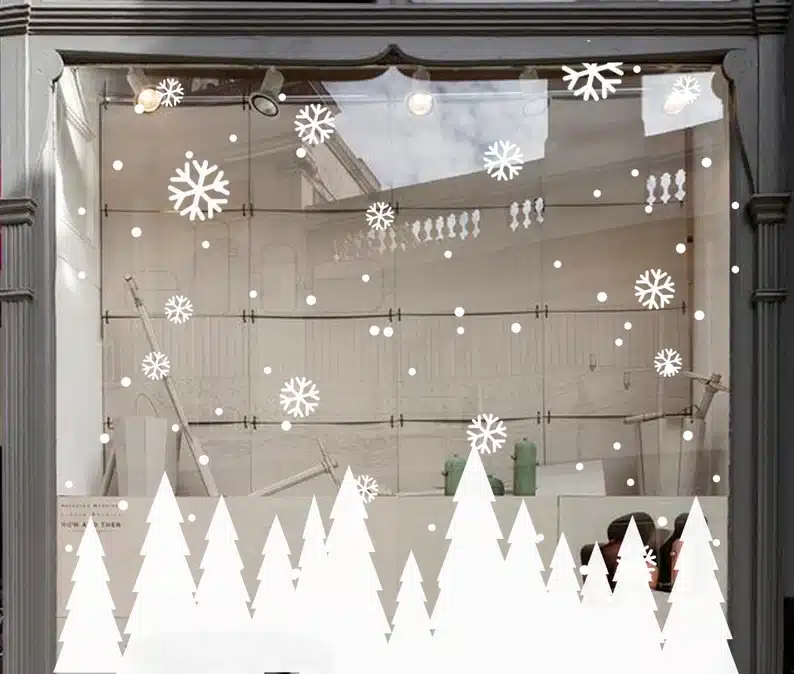 9. String lights and stars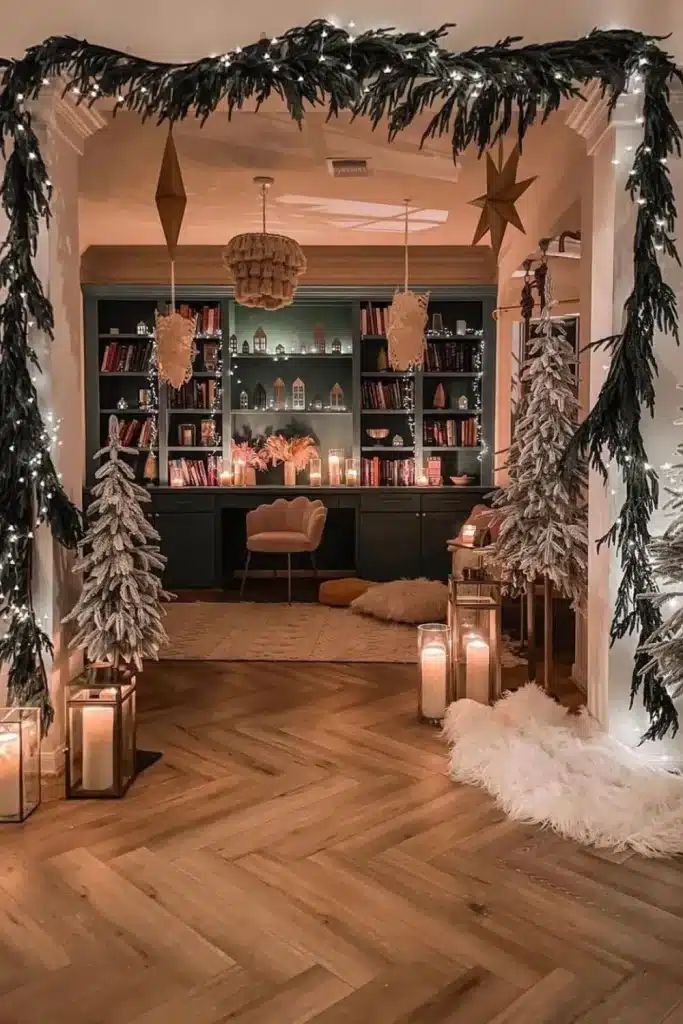 Turn your living room's winter vibe into a dazzling display with some string lights and star lights.
By opting for fairy lights on pine garlands and hanging golden stars – you are instantly creating a festive mood while setting a cozy atmosphere.
10. A Festive Doormat
A festive mat in the doorway along with your Christmas decorations would make for the perfect holiday entrance!
11. Decorate every nook and cranny
Don't leave any space in your apartment unutilized, even your bathroom! Christmas-ify your bathroom with a cute bathroom mat, and throw in a couple of Christmas towels and holiday-scented candles for finishing off the look!
12. Add festive pillows and throw blankets
Bring in all the holiday feels to your bedroom with some cozy Christmas pillows and blankets! These would definitely warm up your favorite space and amp up the cozy atmosphere.
13. Mini Christmas Tree Figurines on sideboards
Spruce up your sideboards with a colorful display of these miniature pine trees, which are basically mini bottle brush trees. Couple them with garlands, ornaments etc, to amp up the seasonal vibes in your apartment.
14. Wrap pine garland and fairy lights around the headboard
Bedrooms are often overlooked when it comes to decorations. So get them Christmas-ready by hanging some faux green garlands over the headboard and weaving string lights around it.
Then hang a wreath or a marquee star on the wall above the bed to bring in the festive vibe and also add a touch of glam to your space.
15. DIY candle centerpieces
Candles are great for bringing that old-fashioned Christmas charm to any room! But instead of placing them in mantles/ sideboards, why not make an elegant centerpiece out of them?
All you need to do is put a few cut sprigs of pine in various jars and place a candle in each of them! Your guests will be wowed by this stunning and simple arrangement.
16. Create a simple Hot Cocoa Bar
A small Hot Cocoa station complete with all the toppings and fixings to go with a warm mug of chocolate would make the perfect addition to your kitchen counter! Winter is the perfect season for hot chocolate anyway.
All you need is a few small mason jars and a cute 'Hot Cocoa' chalkboard to pull this off!
17. Dress up the coffee table
Decorating your coffee table with a few decorative pieces can make your living room look so sophisticated and put together.
Dress up a small tray with some cute miniature Christmas trees and some tea candles and your dazzling coffee table centerpiece is complete!
18. Hang mini wreaths on cabinets
Don't forget to decorate your kitchen!
Get some cute mini wreaths, attach a ribbon across them and then hang it over your kitchen cabinets for bringing in the festive charm!
19. Keep it Neutral
If decorating in the traditional Christmas color combo of red and green is not really your scene, then go for a neutral tone. Keep it light and airy by mixing a variety of hues like white, gold, and silver along with some greenery for a chick and elegant look.
20. Hang wreaths on kitchen chairs
If you want to bring the winter vibe into your kitchen, give the chairs in it a festive makeover by cleverly tying a mini wreath to the back of each chair. Your guests will definitely appreciate your attention to detail!
21. Snowy Christmas Tree and Wreath
For a snowy and white Christmas look, using flocked Christmas trees and wreaths in your house will do the trick. Place them in your living room or in your bedroom and you're all ready to impress your guests!
This post was all about the best apartment Christmas decor ideas!
If you're looking for more holiday decor ideas, you may also be interested in these: