Note: This post contains affiliate links. We may receive a small commission if you make a purchase through a link. Please read our full disclosure policy here.
The Best Dorm Room Halloween Decorations
This post is all about the best Halloween decoration ideas.
Halloween is a HUGE deal in college! I have always loved Halloween and it's so much fun decorating your dorm room in trendy Halloween decorations to capture that holiday vibe!
And there are so many ways to decorate your dorm room for the spookiest day of the year, and best of all they can be easily recreated on a budget.
Whether you prefer to keep it cute, funny, or creepy, I have put together a list of the best dorm room Halloween decoration ideas to help you make the most out of this Halloween season!
(Most of these items are available on Amazon and available with free two-day shipping through Amazon Prime! Grab a free 30-day trial of Amazon Prime here if you don't already have it and need it for the holidays!)
So here are 15 budget-friendly dorm room Halloween decorations that require minimal effort and skill to recreate and are guaranteed to impress everybody!!
1. Halloween Throw Pillows
Changing your throw pillow covers is one of the easiest ways to change the whole look of your dom room. These simple decorative Halloween pillows are the perfect way to bring in some festive and spooky vibes to your bed this Halloween! You can even place them on your futon for all to enjoy!
I love these pillow covers from Amazon that you can use for the season and easily change them to regular ones later! Also, they come in handy for next year as well!
Here are some of my favorite Halloween themed throw pillow covers:
Buy on Amazon
Buy on Amazon
2. DIY a Mason Jar
Mason jars are always great for DIYs. I LOVE this simple Halloween decor using a mason jar because it's not over the top yet totally has the Halloween spirit.
Plus they are very easy to recreate! Give these mason jars a Halloween makeover with some tea lights and a little paint. Draw some spooky faces on it with a permanent marker or black paint, and you're all set!
Buy on Amazon
3. Dorm Door Decoration
Halloween begins at your front door and it's a great spot for fall and Halloween decor, so don't forget to decorate your dorm door to be as spooky and festive as possible!!
I love this Halloween dorm door idea where they have wrapped their door like a mummy! Some toilet paper, yellow craft paper, and some artificial spiders are all that you need for recreating this simple Halloween decor. Looks simple yet gives all sorts of spooky vibes!
I also love the idea of using wreaths and Halloween themed welcome signs to decorate the front door. There's something so classy and simple about this and they're suitable for Fall, Halloween, and Christmas. Such a versatile decoration idea!
Buy on Amazon
Buy on Amazon
(This would be cute as a wall hanging on your dorm room door too!)
4. Hang a Spooky Tapestry
Tapestries are the best way to set the theme of your room and create the perfect atmosphere!
Amazon has a lot of festive but cheap tapestries perfect for Halloween that you can hang on your wall! Decorate with some fairy lights over the top of the tapestry for the perfect fall look!
Here are some of my favorite tapestries:
Buy on Amazon
Buy on Amazon
5. Use a Halloween wall sign
This Halloween wall sign is another simple but cute Halloween decoration to bring the festive spirit into your room!
Buy on Amazon
Buy on Amazon
6. Tiered Tray Decor for Halloween
How cute is this tiered tray? If you've some shelf space, get creative with a few coffee mugs, painted pumpkins, and Halloween signs to bring an effortless Halloween atmosphere to your room!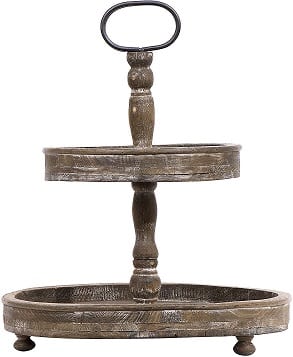 Buy on Amazon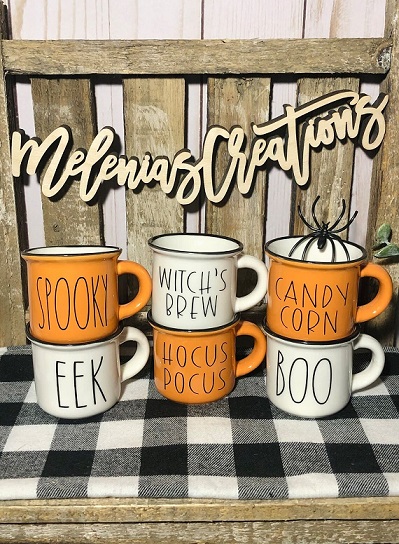 Buy on Etsy
7. Decorate with white Pumpkins
These white decorative pumpkins are such chic Halloween decor. If you don't do any other Halloween decorations in your room, then this should be the one!
Buy on Amazon
8. Fairy Lights
Is it really Halloween if you don't have fairy lights in your room?!
Fairy lights are a must-have in every dorm room, and they work perfectly with any Halloween decor to add coziness and warmth to your room!
Buy on Amazon
9. Flameless Candles
Not all Halloween decor has to be overwhelmingly black and orange. If you want to keep things minimalistic, then these flameless candles are excellent Halloween decorations for a spooky fix.
Buy on Amazon
10. Simple Boo Balloons
Boo Balloons are such an eye-catching and fun Halloween decor idea! It's the perfect, minimal Halloween decor and definitely a must-have for your dorm room Halloween decorations!
They come in many different colors, so you can choose what works for your living room's color scheme. If you're throwing a party, this is such a fun way to decorate.
Buy on Amazon
11. Hang a pumpkin garland
You just can't go wrong with using pumpkins as Halloween decor!
This pumpkin garland is the ideal wall decor for the fall season and is such a cute way to add a touch of Halloween to your room! It looks simple but still brings Halloween vibes to dorms for a cheap price.
A cute spot to hang this garland is on your bedroom wall or your desk area!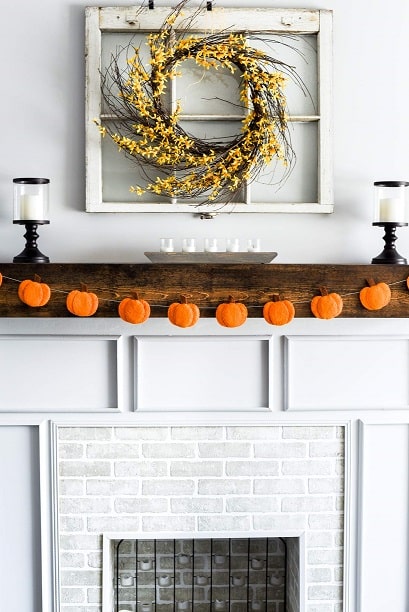 Buy on Etsy
12. Spooky Neon Signs
Another frightening yet funny Halloween decor that everyone is obsessed with right now is these cute, spooky neon signs! This decor idea is guaranteed to wow everyone!
Buy on Amazon
Buy on Amazon
13. DIY scary bat branches
These DIY Bat branches are just what you need to create a spooky atmosphere in your room. It's super easy to recreate and inexpensive as well!
All you need for this DIY is bat stickers and branches. These bat stickers come in a pack of 120 in different sizes and cost less than $10. Just attach the decorative bats to the branches and place them in a simple vase for a simple yet classy set up!
Buy on Amazon
Buy on Amazon
14. Halloween Letter Board
This Halloween decoration is classic but insanely cute and cheap! I particularly love the idea of using a letter board with a fun Halloween quote!
You can even decorate the board with pumpkins in assorted sizes and colors, autumn leaves, or other Halloween decor (like these white skulls in the picture above), to get the desired Halloween/Fall effect!
Buy on Amazon
Buy on Amazon
15. Halloween Stress Balls
I absolutely love these Halloween Stress Balls ideas! It goes with the traditional orange and black color theme and looks ridiculously cute!
Use a black permanent marker or paint to decorate orange balloons with funny faces, fill them with rice, and you're all done! Such a super fun and easy Halloween decor idea!
Buy on Amazon
The Best College Halloween Decorations
This post was all about 15 super cute dorm room Halloween decorations.
For more Halloween ideas, be sure to read the following posts on Halloween costumes for the perfect costume idea to wear this Halloween!