Note: This post may contain affiliate links. We may receive a small commission if you make a purchase through a link. Please read our full disclosure policy here.
Looking for new ideas to decorate your Christmas tree? Here are 23 unique Christmas tree decoration ideas to make your tree stand out this holiday season.
This post is all about Christmas tree decoration ideas.
The Christmas season is here, which is the most wonderful time of the year! It's all about spreading cheer, decorating trees, exchanging gifts, and cozying up with loved ones.
The Christmas tree, at the heart of holiday decor, carries a bundle of cherished memories. From the annual quest to find the perfect tree to the joy of decorating it with friends and family, it's a tradition that warms our hearts.
It could be difficult to accommodate a towering 12-foot tree inside your apartment; the limited space might seem like a hurdle. But don't let that stop you from spreading the Christmas spirit! While you may not have room for a giant tree, there are countless ways of decorating a stunning and magical Christmas tree in your apartment!
From classic and timeless styles or whimsical and unique themes, here are 23 amazing decor ideas to make your Christmas tree the heartwarming centerpiece of your holiday celebrations!
Christmas Tree Decoration Ideas
1. Rustic Christmas Tree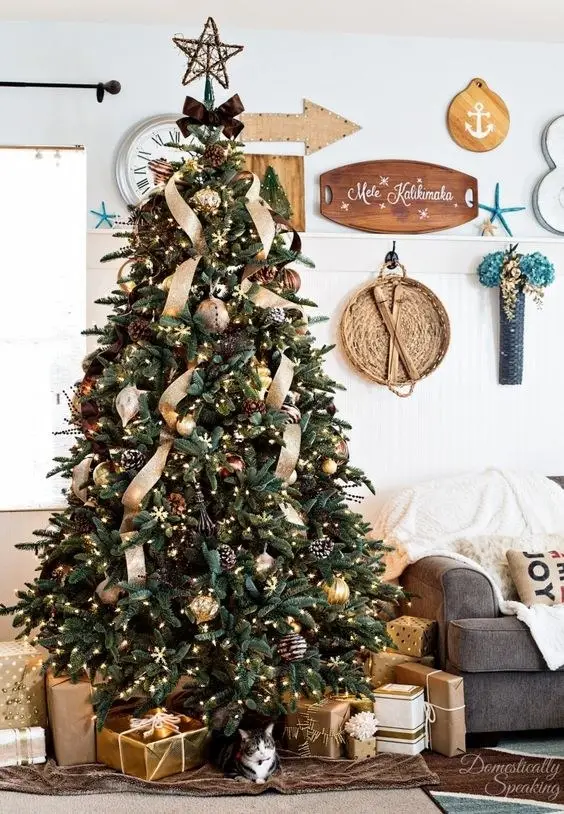 Creating a rustic Christmas tree theme is the best way to bring a cozy and nostalgic charm to your holiday decor. Decorated in earthy tones like brown and green, burlap ribbons, and wooden ornaments, it'd look so warm and inviting, eliciting the charm of a rustic, winter cabin in the woods.
2. Snowy Pinecone Christmas Tree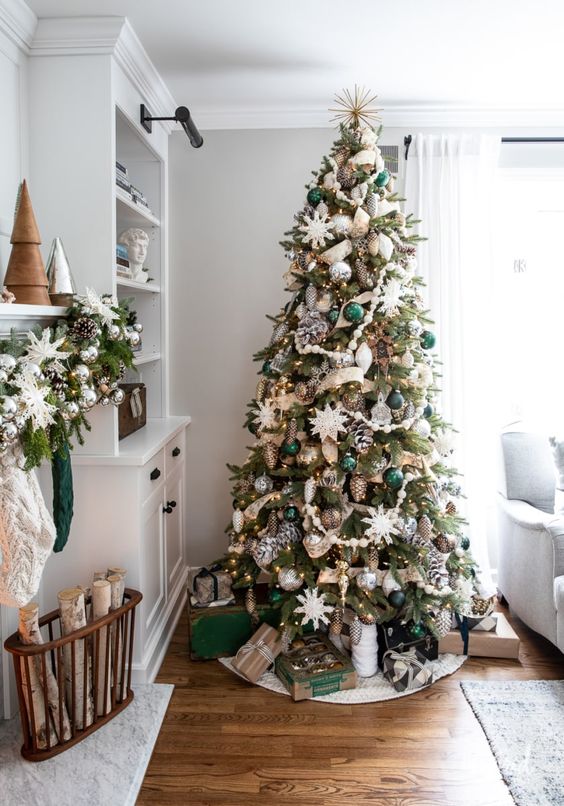 Incorporating snowflakes and pinecones on your tree is a wonderful way to capture the serene beauty of a winter landscape. It's the perfect theme for those who want to bring a touch of nature and a wintry ambiance into their holiday decor.
3. Blue Christmas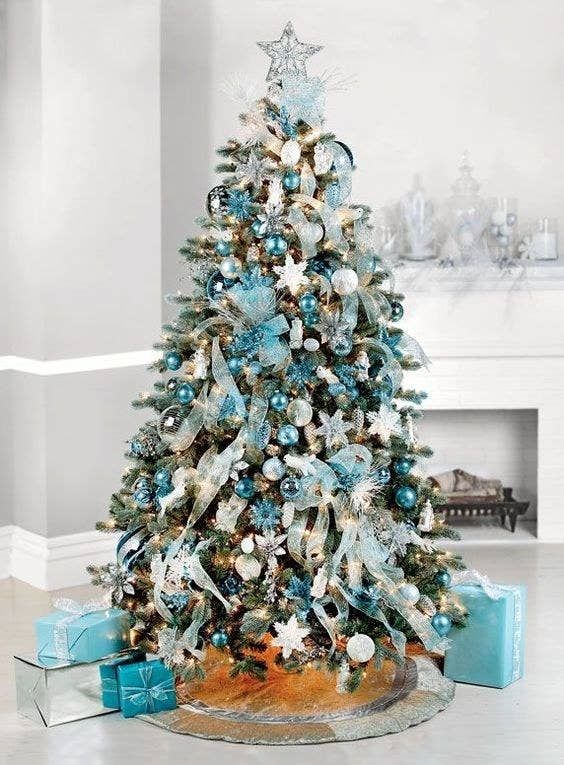 If you want something entirely different from the conventional, a Blue Christmas Tree would be the way to go. Layered with pale blue ribbons and decorated with blue ornaments in different shapes and sizes, this Christmas tree looks absolutely mystical! It's unique, and sophisticated and brings a touch of elegance and enchantment to the holiday season.
4. Decorate with red berries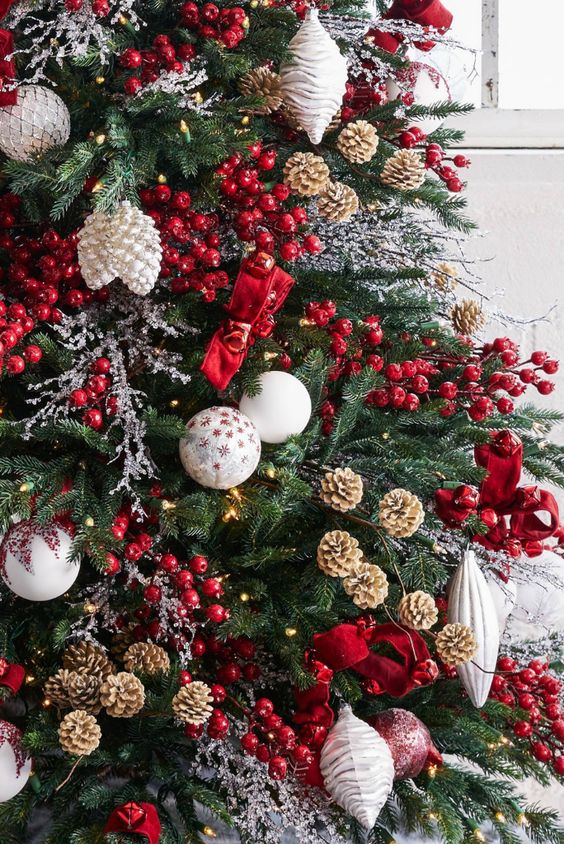 Add a pop of color and texture to your Christmas tree by decorating it with red berries. It effortlessly adds a touch of sophistication and a hint of nature to your festive decor. Paired with the earthy tones of pinecones, the deep red hues of the berries bring a classic holiday charm to your decorations.
5. Bronze and Neutral Metallic Christmas Tree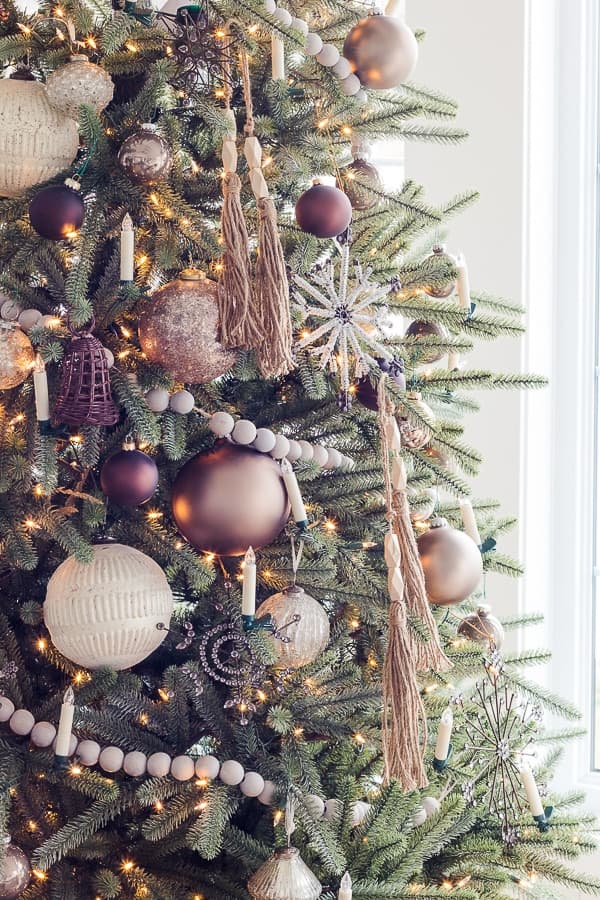 Bronze ornaments, shimmering baubles in champagne and gold hues, and bead garland gracefully adorning the tree – this Christmas tree is such an elegant and chic centerpiece that brings a touch of glamour to your holiday decor.
Related: 21 Chic and Festive Apartment Christmas Decor Ideas
6. Pink Themed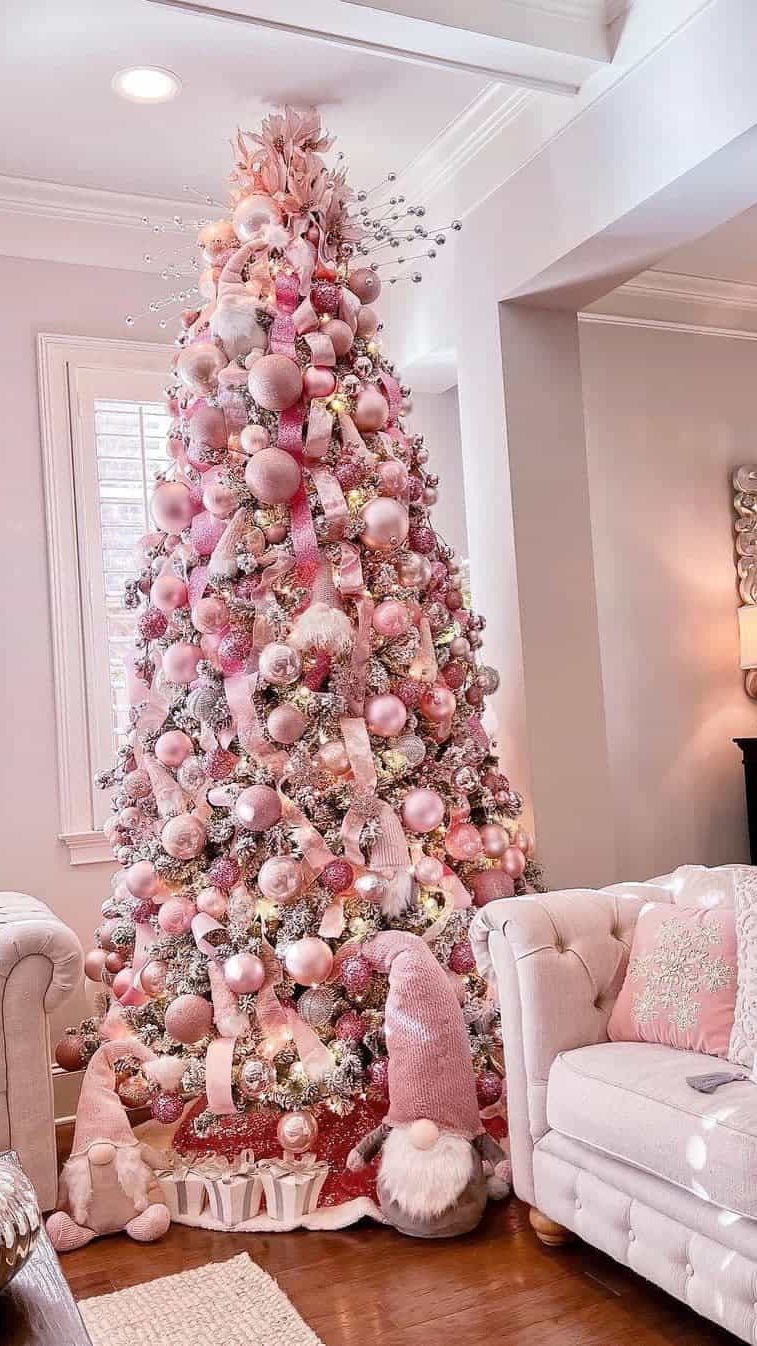 If you find yourself in the spell of a Barbiecore-themed Christmas, why not go all out? Think neon pink baubles, ribbons, dazzling silver and gold ornaments, and a brilliant tree topper – mix them all together for a tree that's classic and cool at the same time.
7. Red, White and Gold Christmas Tree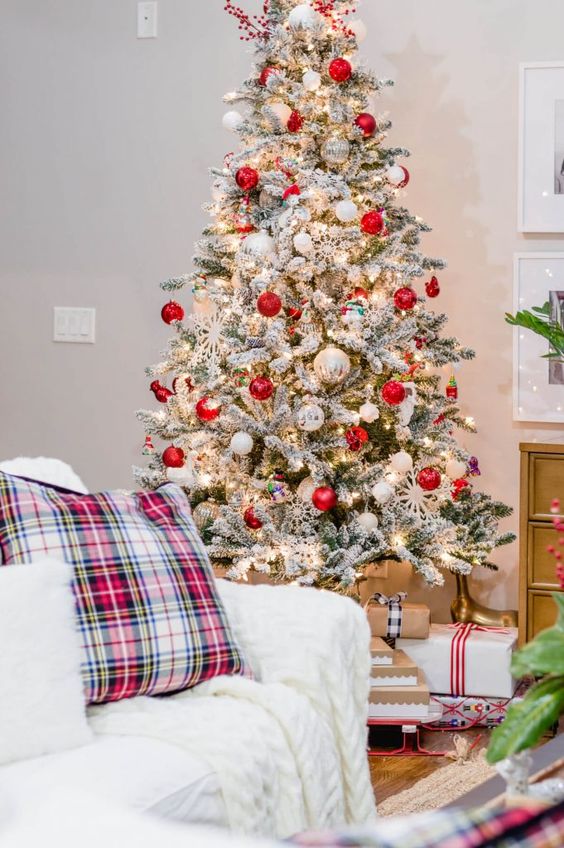 Nothing rocks the Christmas spirit better than a snow-flocked Christmas tree adorned in the classic combination of red, gold, and white colors. Mixing these colors and incorporating various ornaments like baubles and snowflakes adds a delightful air of elegance and holiday cheer to your space.
8. Rustic Bohemian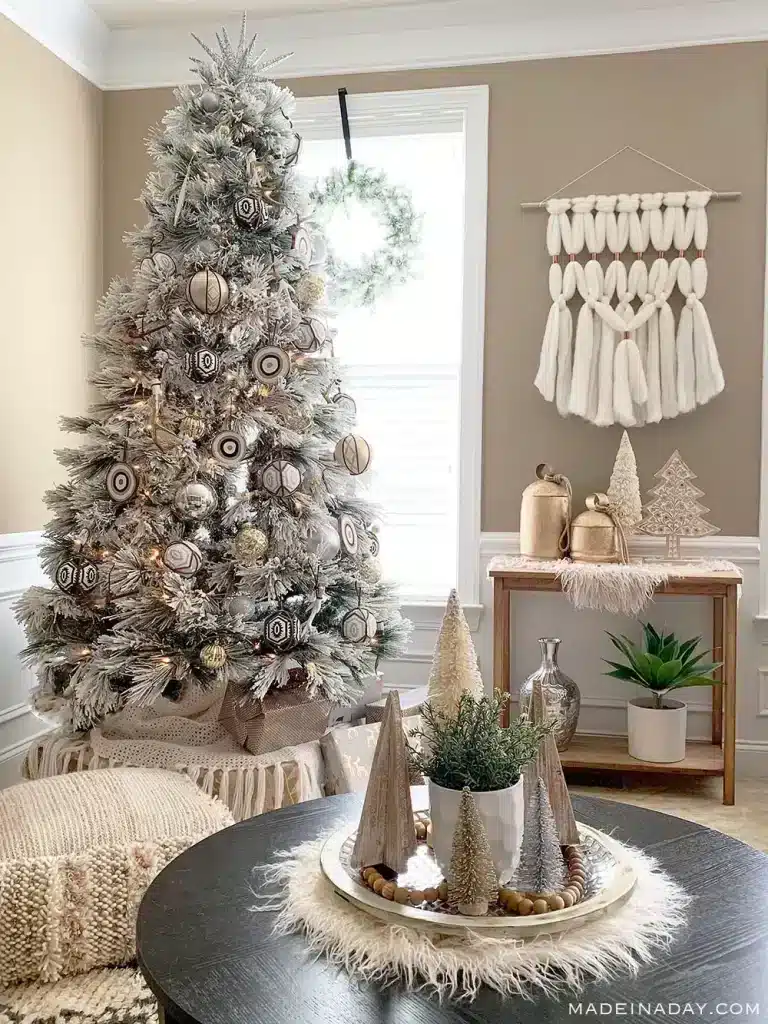 Adding subtle boho touches to a room brings a soft and cozy vibe, and the same magic can transform your Christmas tree. Picture a rustic boho masterpiece, adorned with a mix of colorful and eclectic ornaments. It's like wrapping your tree in a warm hug from nature, creating a boho-chic holiday haven.
9. Plaid and flowers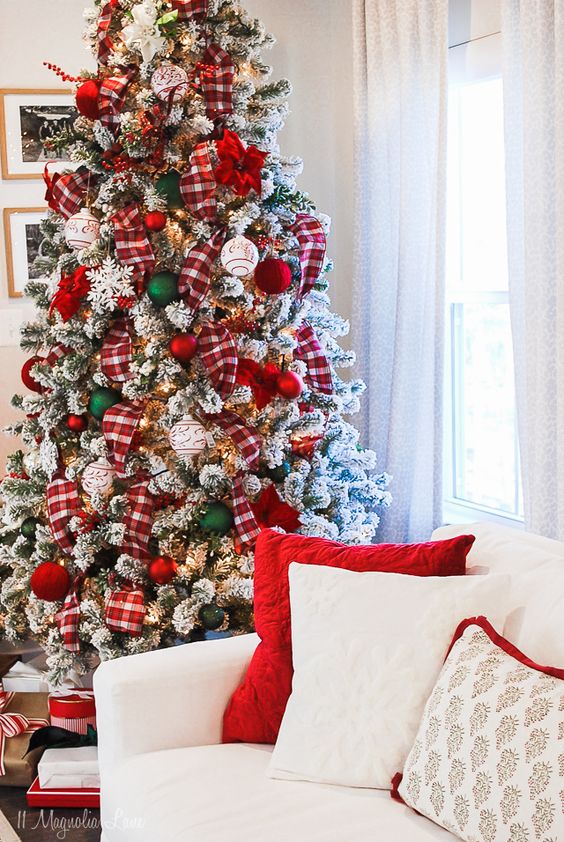 Plaid ribbons are always a timeless Christmas classic. Paired with traditional baubles, sparkly flowers, and warm string lights, this Christmas tree easily brings a warm and cozy charm to your festive decorations.
10. Warm Gold Touches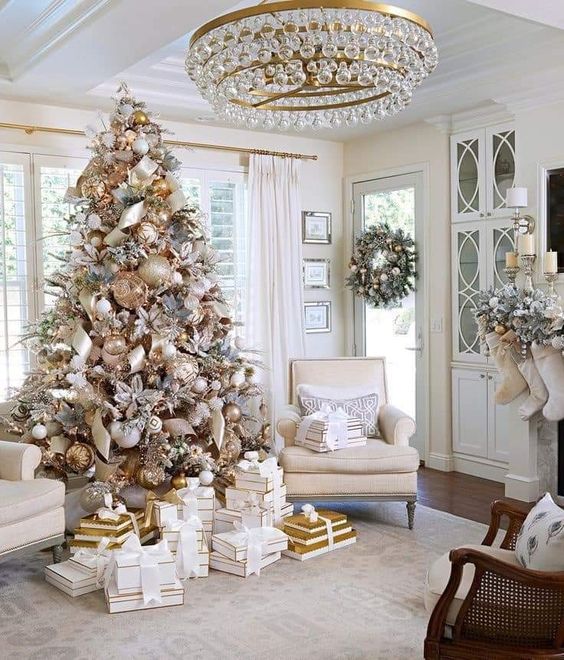 You can't go wrong with an elegant gold and copper display. Adorn your Christmas tree with glistening gold ornaments and garlands for a luxurious and sophisticated look. Add some decorative flowers and pine nut ornaments to give your Christmas tree a stunning finish!
11. Minimalist Christmas Tree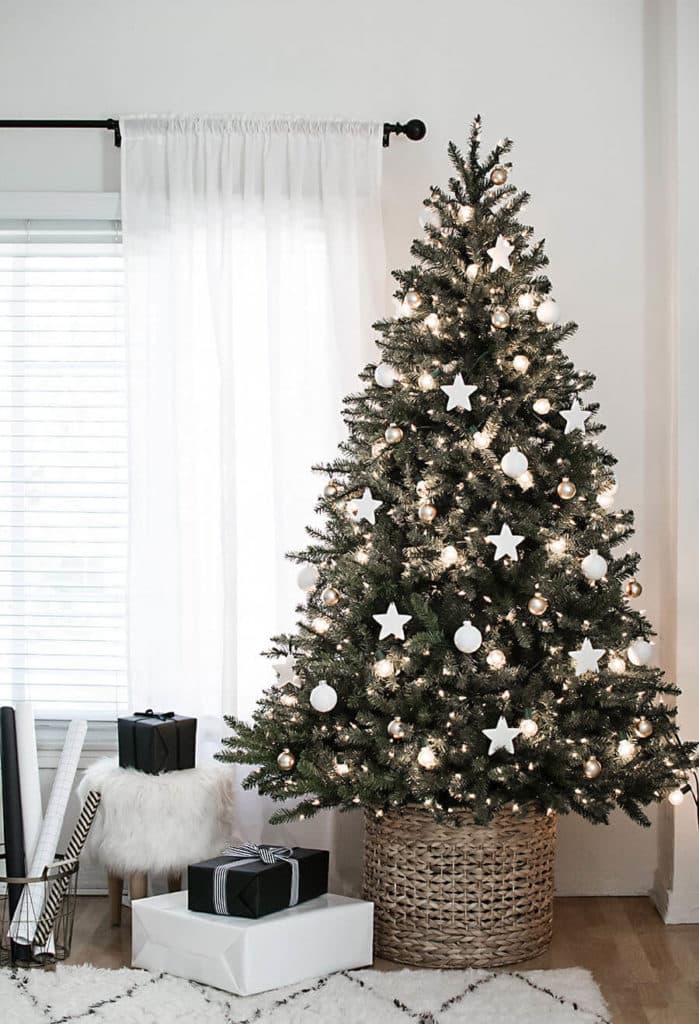 If you want to keep it clean and sleek, go for a modern minimalist Christmas tree. Just deck it out with simple ornaments and elegant string lights, and opt for a minimalist tree topper or a single, understated star.
Related: 28 Most Popular Christmas Gifts for College Girls in 2023
12. Burgundy and Gold Christmas Tree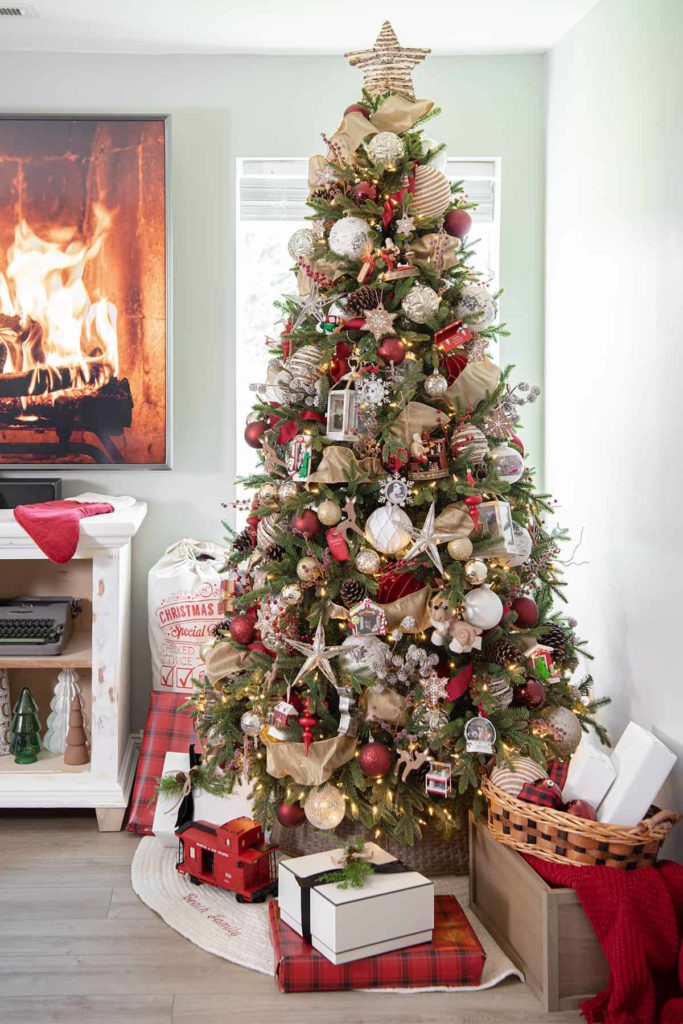 Burgundy and gold are such a lovely color combination for Christmas tree decorations that give your tree a warm, soft, and vintage vibe. To nail this look, pack in an assortment of burgundy and gold ornaments, pinecones, and glass ornaments, and top it off with a rattan star for a touch of glam.
13. Decked in Silver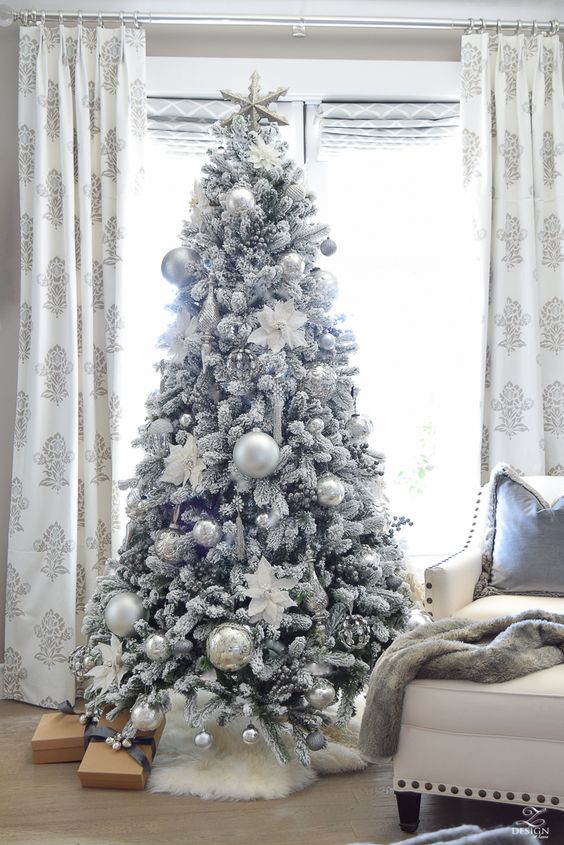 This silvery white Christmas tree is so full of texture and looks so put-together. Decked all out in glittery and shiny ornaments they bring an air of elegance to the entire room it's placed in. The perfect centerpiece if you're going for a festive and sophisticated holiday setting.
14. Gold and Silver Ornaments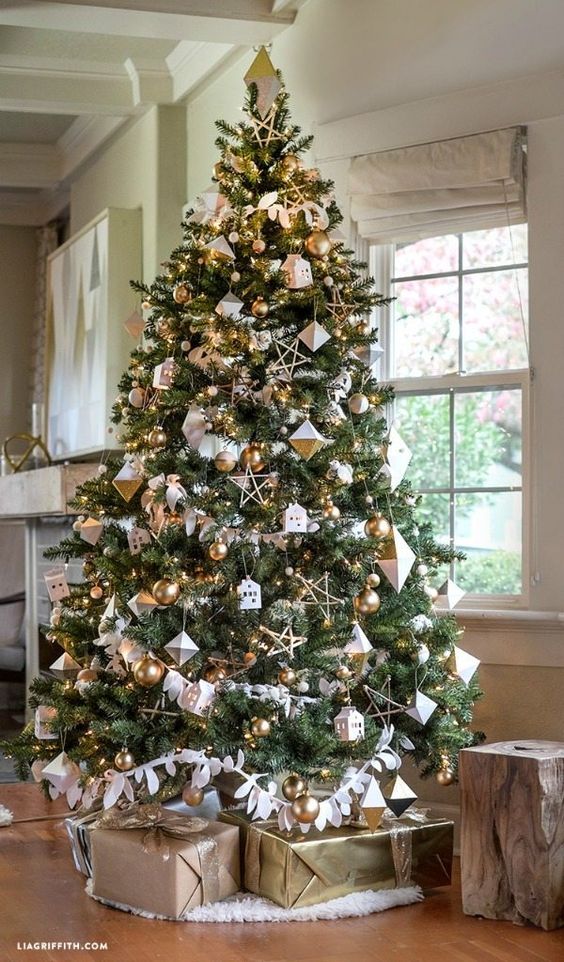 Fill your Christmas tree with some cute papercut ornaments, classic baubles, and golden twigs. Complete the cozy and warm vibe by wrapping them all in paper garlands.
15. With miniature cottages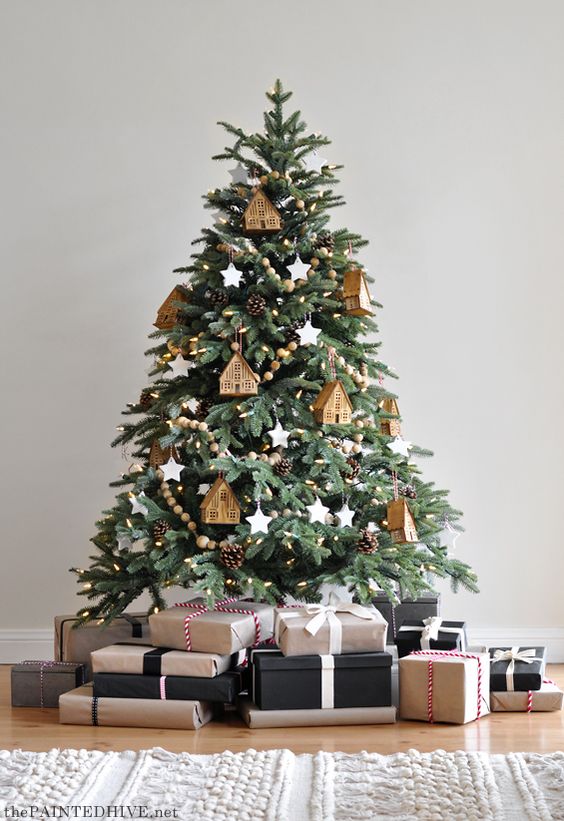 Wooden elements can instantly add a touch of rustic charm and coziness to your Christmas tree decor.
This Scandinavian inspired Christmas tree uses wooden miniature cottages, adorable paper stars, and beaded garlands to achieve that elegant and neutral look.
16. Blue and Gold decorations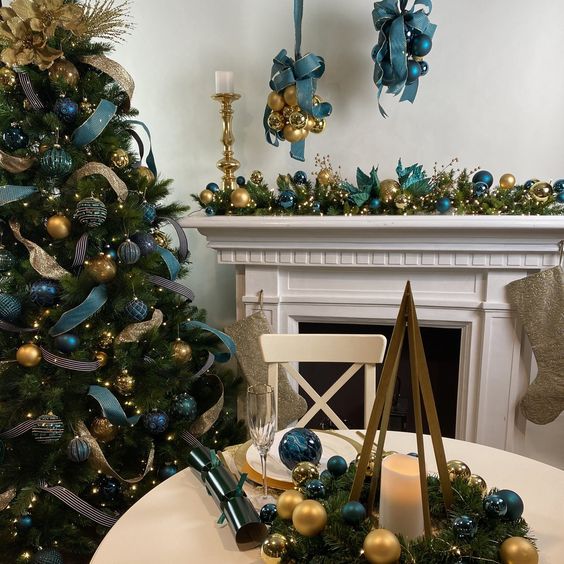 For a unique look, go for a gold and blue themed Christmas tree. Layered with velvet ribbons and shimmering baubles, this tree will look breathtaking in your living room!
17. Winter Wonderland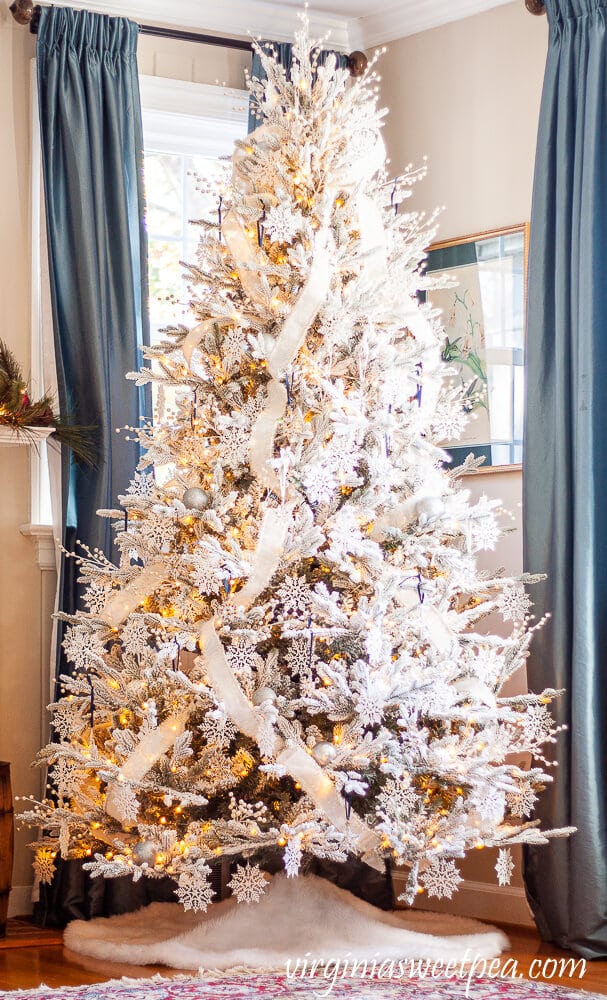 Create the winter wonderland look inside your home by dressing up a snow flocked tree with shimmering snowflake ornaments, white berries, and snowy burlap ribbons. Finish the tree with a plush white tree skirt and warm string lights.
18. Add some dried citrus slices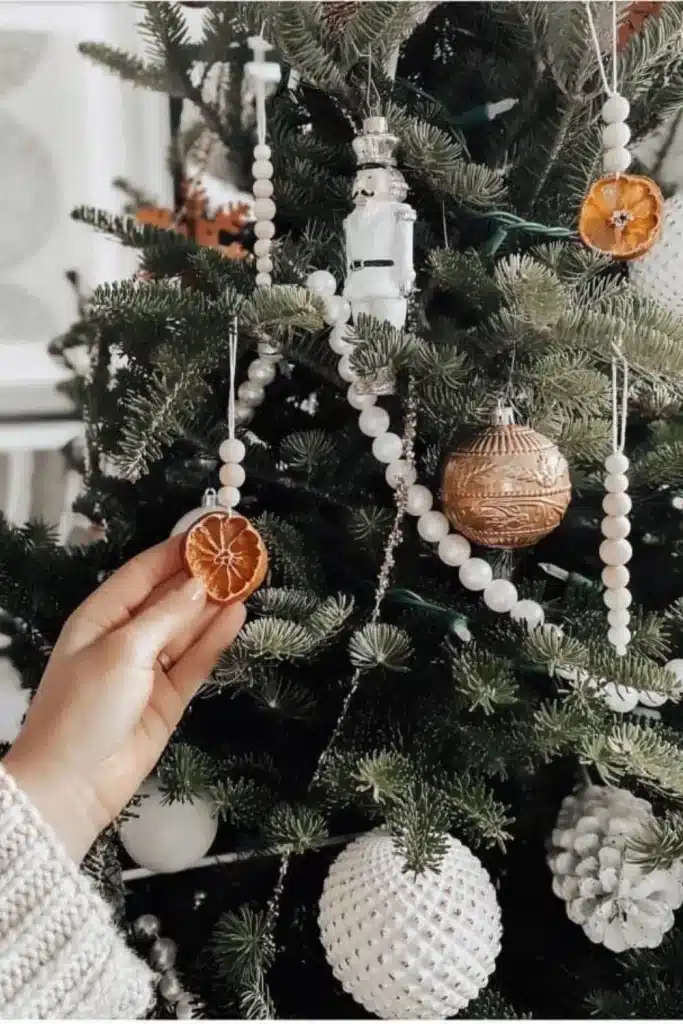 For a unique and nature inspired look, nestle some dried orange slices in between the branches of your Christmas tree. The warm hues of the dried oranges add a natural and earthy feel to the tree, creating a cozy and inviting atmosphere.
19. Candy Cane Themed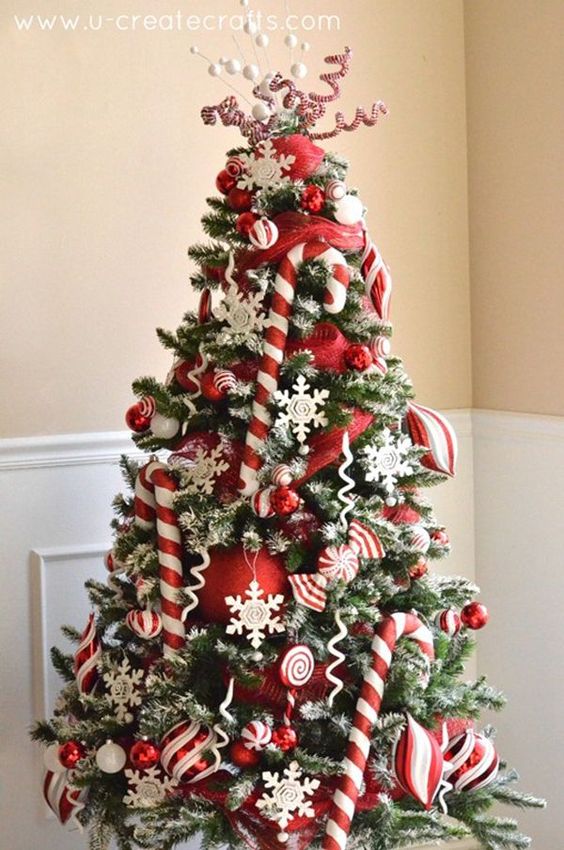 If you're looking for a cheerful theme, go for a vibrant and colorful candy cane-themed Christmas tree. Fill the tree uniformly with lots of red and white oversized candy cane ornaments, peppermint-inspired baubles, small toys, and candies to create that whimsical, festive spirit!
20. Black and White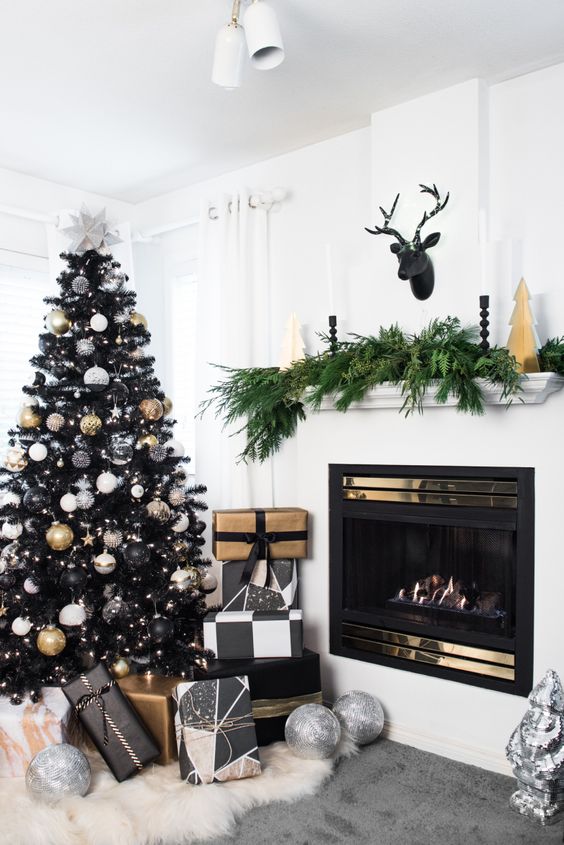 Looking for a simple yet festive look but that's different from the classic color scheme? Create a chic monochromatic tree by decorating with black and white ornaments, with matching gift wrappers to stay on theme.
21. A Chic Mini Christmas Tree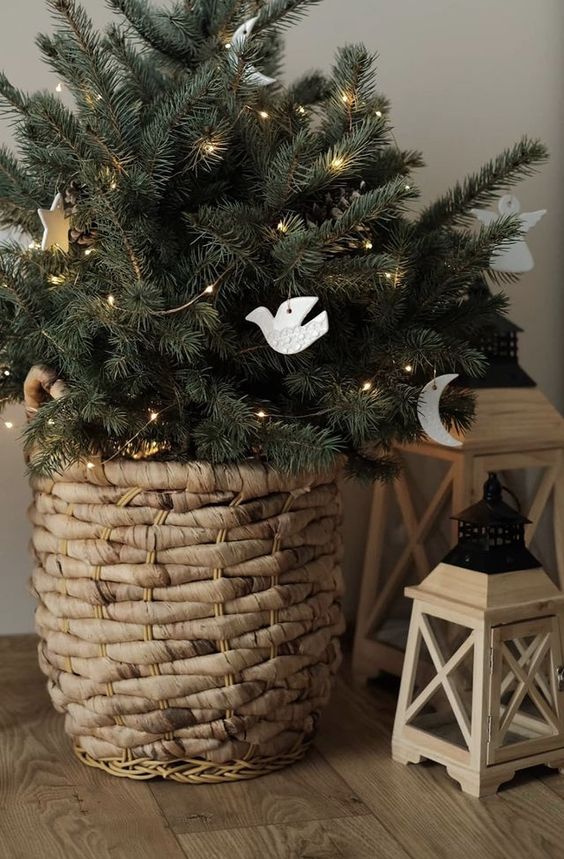 Whether it's a real or faux tiny Christmas tree, there's something undeniably cozy and cute about layering it with twinkling lights and placing it in a wicker basket. This minimalist look exudes warmth without the need for too many ornaments. It's a simple, yet stylish, holiday touch that exudes charm in any space.
22. Inspired by Nature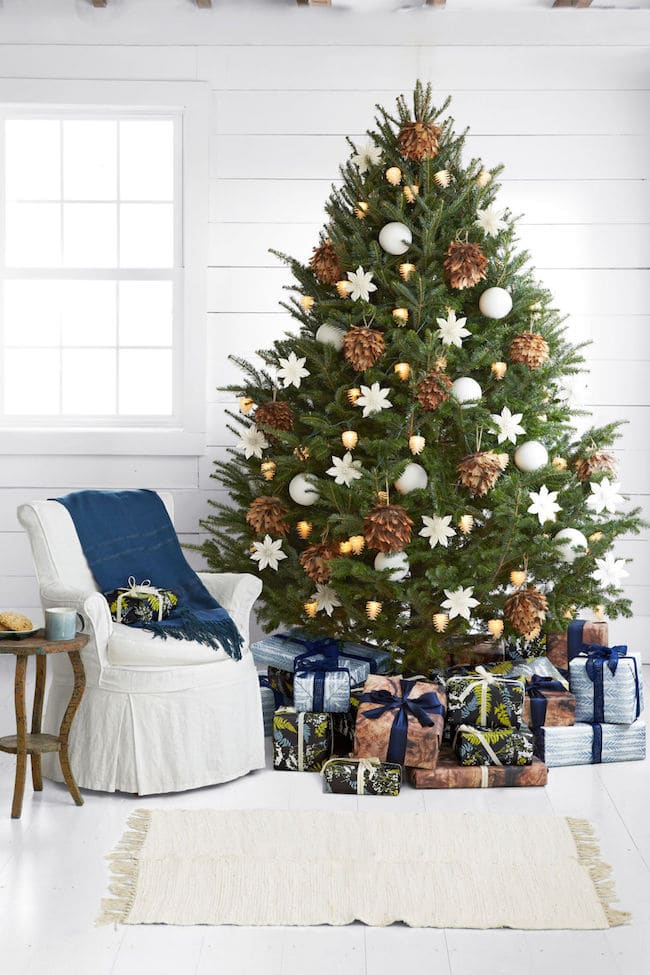 Something about a Christmas tree covered in rustic ornaments like large pinecones, delicate white snowflakes, and simple flowers screams coziness to me. It's like bringing the serene beauty of a winter forest right into your home.
23. White and Gold Christmas Tree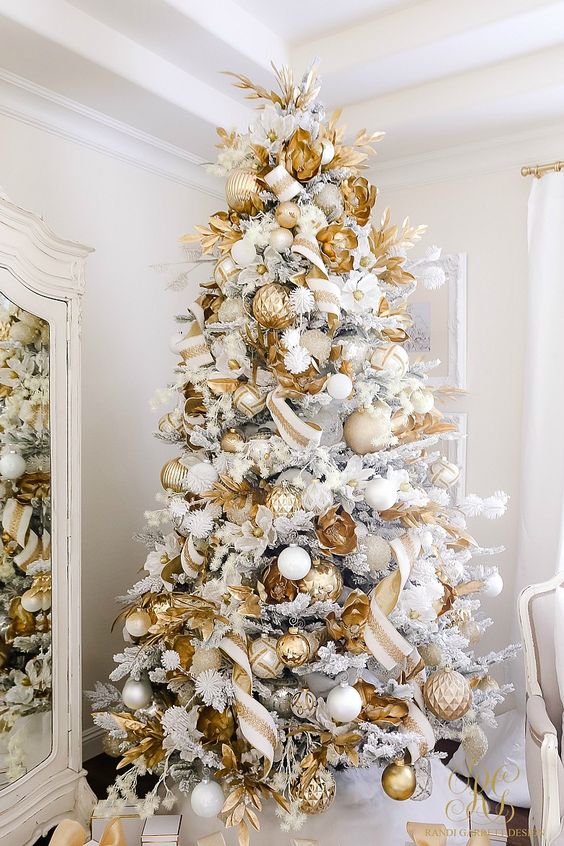 This white and gold Christmas tree decoration idea is a dazzling display of opulence! Glistening baubles and faux leaves are nestled in between the tree branches with white and gold ribbons cascading down the tree, creating a truly luxurious atmosphere.
This post was all about the best Christmas tree decoration ideas for apartments!
If you're looking for more ideas for the holidays, you may also be interested in these: