Note: This post contains affiliate links. We may receive a small commission if you make a purchase through a link. Please read our full disclosure policy here.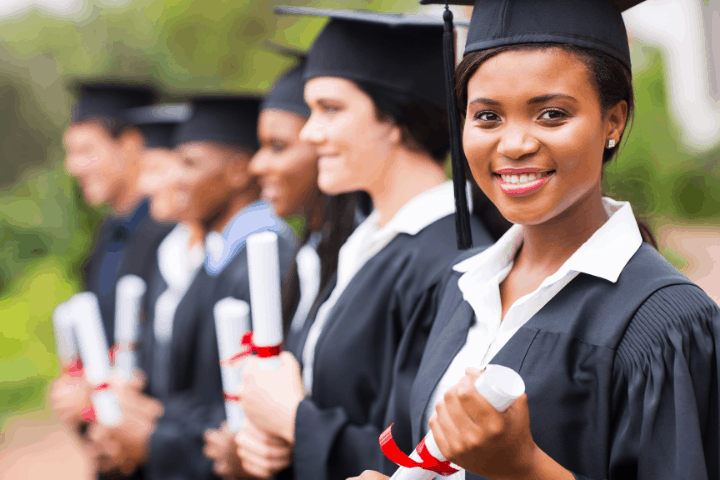 50+ Best Graduation Quotes and Sayings
Congratulations to all the young graduates! You did it!
Graduation is an exciting time to celebrate your favorite student's accomplishments.
Are you looking for the best graduation quotes for your favorite high school or college grad? Here you'll find the best graduation quotes from celebrities, athletes, politicians, writers, and more!
These quotes will give them the support and advice they would definitely need while commemorating this significant achievement!
if you're still looking for the perfect present for the graduate in your life, you may also want to check out these posts on high school graduation gift ideas for girls and high school graduation gift ideas for boys.
Short Graduation Quotes
"Be bold, be courageous, be your best." — Gabrielle Giffords
"There are far, far better things ahead than any we leave behind." — C.S. Lewis
"Your education is a dress rehearsal for a life that is yours to lead." — Nora Ephron
"It's hard to beat a person who never gives up." —Babe Ruth
"An investment in knowledge always pays the best interest." —Benjamin Franklin
"The beautiful thing about learning is that no one can take it away from you." — B.B. King
"Intelligence plus character—that is the goal of true education." — Martin Luther King Jr.
"Your time is limited, so don't waste it living someone else's life." — Steve Jobs
"Kid, you'll move mountains." —Dr. Seuss
"A champion is someone who gets up when he can't."
—Jack Dempsey
"All of our dreams can come true if we have the courage to pursue them."
—Walt Disney
"If you can't outplay them, outwork them."
—Ben Hogan
"It is not in the stars to hold our destiny but in ourselves." —William Shakespeare
"I have never let my schooling interfere with my education." —Mark Twain
"Instruction ends in the schoolroom, but education ends only with life."
—Frederick W. Robertson
"If you can imagine it, you can achieve it; if you can dream it, you can become it."
—William Arthur Ward
Emotional Graduation Quotes
"Don't be afraid. Be focused. Be determined. Be hopeful. Be empowered."
—Michelle Obama
"I've failed over and over and over again in my life. And that is why I succeed."
—Michael Jordan
"You don't have to be famous. You just have to make your mother and father proud of you, and you already have."
—Meryl Streep
"Be who you are and say what you feel, because those who mind don't matter and those who matter don't mind."
—Dr. Seuss
"Don't just get involved. Fight for your seat at the table. Better yet, fight for a seat at the head of the table," —Barack Obama
"I encourage you to live with life. Be courageous, adventurous. Give us a tomorrow, more than we deserve." —Maya Angelou
"In this life we cannot do great things. We can only do small things with great love." —Mother Teresa
"Education is our passport to the future, for tomorrow belongs to the people who prepare for it today."
—Malcolm X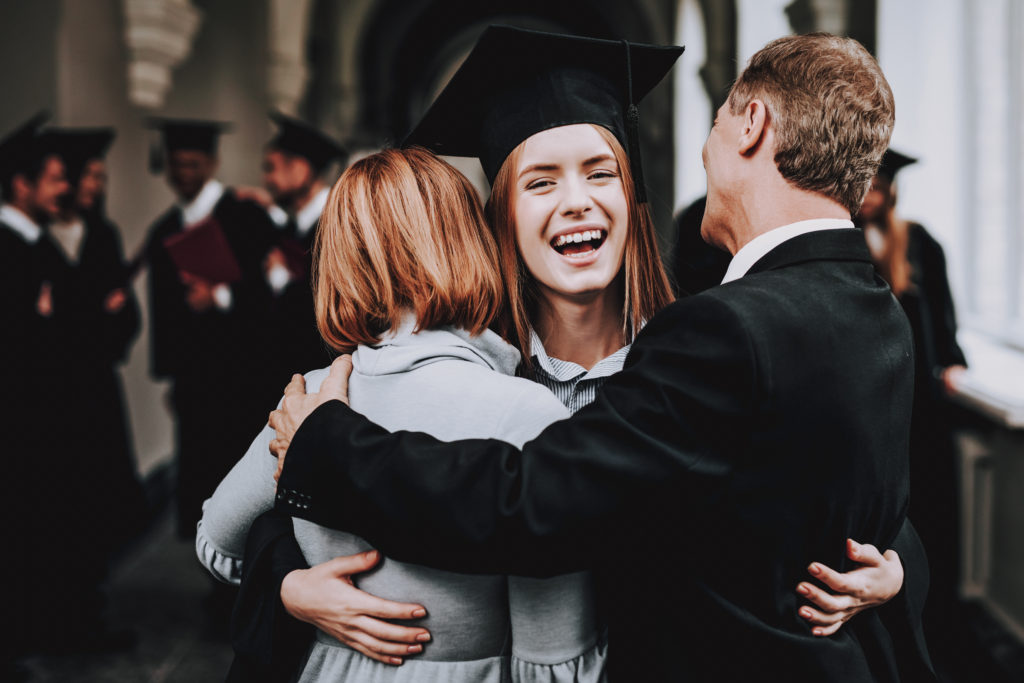 Meaningful Graduation Quotes
"Keep the faith. Keep on moving. Keep climbing." —Miley Cyrus
"The most important thing in your life is to live your life with integrity and to not give into peer pressure to try to be something that you're not."
—Ellen DeGeneres
"Every person you meet knows something you don't; learn from them."
—H Jackson Brown Jr.
"You have to dance a little bit before you step out into the world each day because it changes the way you walk."
—Sandra Bullock
"You will stumble and fall, you will experience both disaster and triumph, sometimes in the same day. But it's really important to remember that like a hangover, neither triumphs nor disasters last forever," — Helen Mirren
"Don't be afraid of fear. Because it sharpens you, it challenges you, it makes you stronger; and when you run away from fear, you also run away from the opportunity to be your best possible self." —Ed Helms
"Don't just live… be life. Live all of your life. Understand it, see it, appreciate it and have fun." — Joss Whedon
"Fall forward. Every failed experiment is one step closer to success. You've got to take risks." —Denzel Washington
Inspirational Graduation Quotes
"You have brains in your head. You have feet in your shoes. You can steer yourself in any direction you choose."
—Dr. Seuss
"To accomplish great things, we must not only act, but also dream, not only plan, but also believe." —Anatole France
"What lies behind us and what lies before us are small matters compared to what lies within us."
—Ralph Waldo Emerson
"Success is not final; failure is not fatal: it is the courage to continue that counts." — Winston Churchill
"If you want something you've never had, you must be willing to do something you've never done." — Thomas Jefferson
"Your life is your story, and the adventure ahead of you is the journey to fulfill your own purpose and potential." —Kerry Washington
"Education is the key to unlocking the world, a passport to freedom." — Oprah Winfrey
"The future belongs to those who believe in the beauty of their dreams." — Eleanor Roosevelt
"Your imagination is your preview of life's coming attractions." — Albert Einstein
"Go confidently in the direction of your dreams. Live the life you have imagined." — Henry David Thoreau
"We do not need magic to transform our world. We carry all the power we need inside us already. We have the power to imagine better," — J.K. Rowling
"You will find the key to success under the alarm clock." —Benjamin Franklin
"The fireworks begin today. Each diploma is a lighted match. Each one of you is a fuse." —Edward Koch
"Education is the most powerful weapon we can use to change the world." —Nelson Mandela
"Life is ten percent what happens to you and ninety percent how you respond to it."
—Charles Swindoll
"Be the hardest working person you know. Because if you're not, someone else will be." —Ian Brennan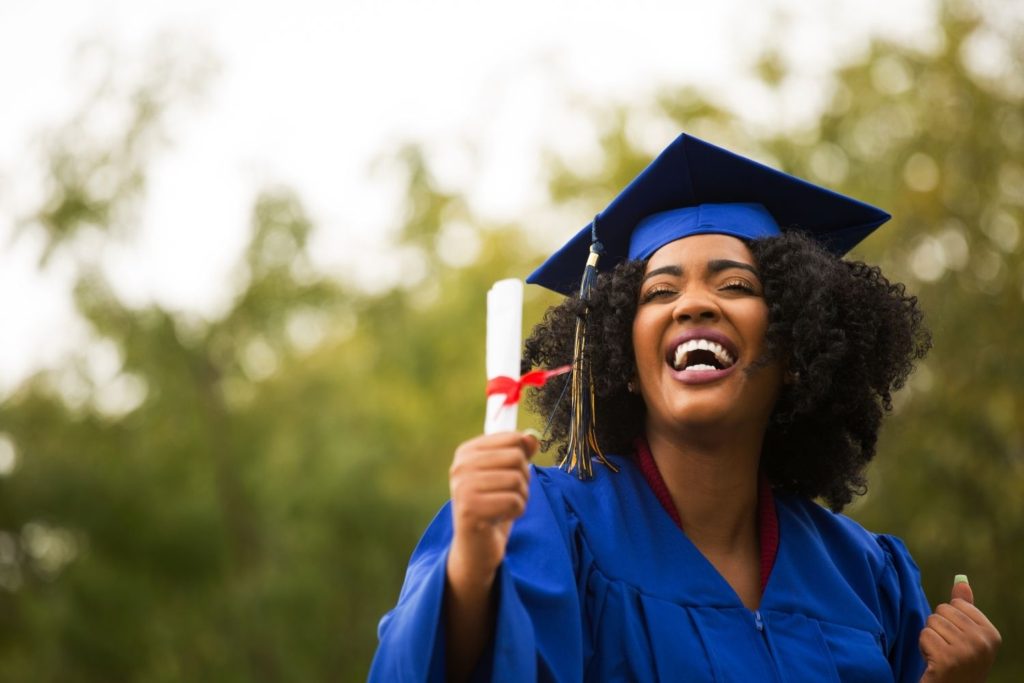 Funny Graduation Quotes
"The only thing that ever sat its way to success was a hen."
—Sarah Brown
"You can't climb the ladder of success with your hands in your pockets."
—Arnold Schwarzenegger
"Even if you are on the right track, you will get run over if you just sit there."
—Will Rogers
"Now that you've graduated, just remember: Bosses don't usually accept notes from your mother." —Melanie White
"The road to success is always under construction." — Lily Tomlin
"Life has no remote. Get up and change it yourself." —Mark A. Cooper
"If they can make penicillin out of moldy bread, they can sure make something out of you." —Muhammad Ali
"It's always a good move to listen to that inner voice… if it doesn't lead to crime." —Lisa Kudrow
More Graduation Ideas
This post showed you the best graduation quotes.
For more ideas related to graduation, check out the following posts: