Note: This post contains affiliate links. We may receive a small commission if you make a purchase through a link. Please read our full disclosure policy here.
This post is all about the things I wish I brought to college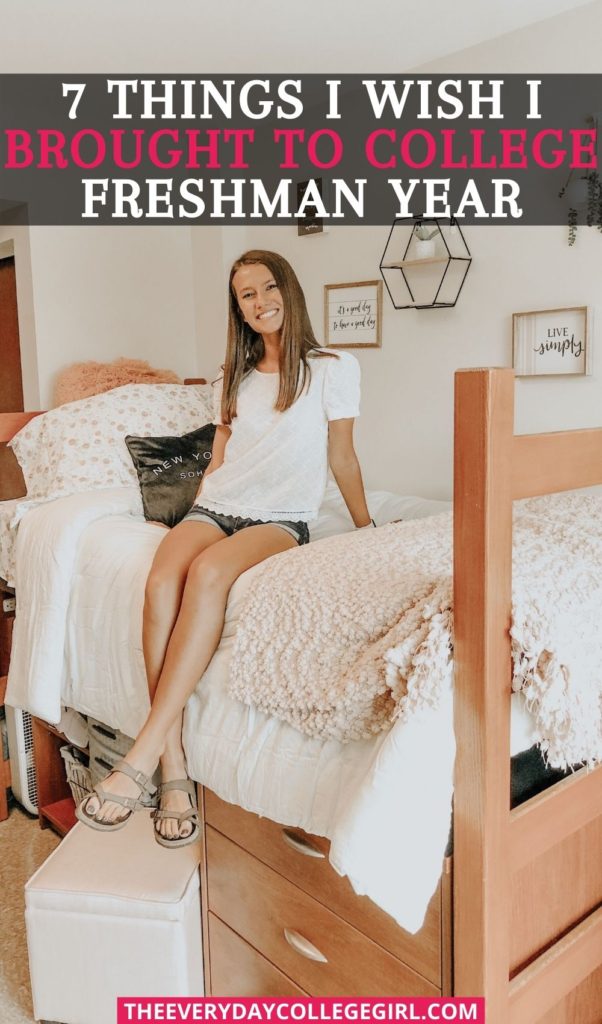 7 College Essentials I Wish I Brought to College My Freshman Year
College move-in day is just around the corner and you are probably going through all the college packing lists available online to plan on what to bring to college!
But despite doing a lot of planning and reading a lot of college packing lists out there, I still wasn't fully prepared when I moved into my dorm for my freshman year of college.
There were still a few things I wish I had brought with me to college my freshman year that wasn't mentioned in any of the packing lists I read. Bringing them along would have seriously made my college life so much easier from the beginning!
Related: 25 Dorm Room Essentials You'll Actually Use
P.S: Most of these items are available on Amazon with free two-day shipping through Amazon Prime! Grab a free 30-day trial of Amazon Prime here if you don't already have it!
Here are 7 things I wish I would have brought with me to college!
Clothes Steamer
Because dorm rooms are so tiny and an ironing board and iron will take up a lot of precious storage space, bringing it to college is not a practical idea!
So I really recommend bringing a mini steamer with you to college. I really wish I had brought one when I moved into college my freshman year. It's compact, easy to use, and removes wrinkles perfectly!
Extension Cord
Most of the time you'll have a lot of things to charge at the same time like phones. laptops etc, so you'll need a lot of plugs for that.
But dorm rooms usually only have a couple of outlets and they're often placed somewhere it's not easy to reach! Also, you have to share that with your roommate, so that means not enough power outlets.
So I highly suggest you bring an extension cord with you to college! I really regret not having the foresight to bring one with me! I like this one because it's got ten outlets and four USB charging ports which will make it a lot easier to keep everything plugged in all at once.
Bedrest Pillow
A bedrest pillow is perfect for back support when you're studying or watching movies, or just chilling out in bed! Trust me, it's much better than having to sit leaning against the hard wall of your dorm room!
This is something I really regret not bringing with me because I just didn't see the point! But now I know that they're much more comfortable than just using a regular pillow! They aren't only good to use on your bed, but also propped up against the wall when sitting on the floor.
Storage Ottoman
For whatever reason, I didn't think of bringing a Storage Ottoman to college! I didn't realize its importance well until the end of the first year!
It's such an excellent piece of upholstery that you can use as extra seating or as a footrest and at the same time use it to store stuff in them. They also add a nice decorative touch to your dorm room.
Related: 15 Dorm Room Organization Essentials That Will Save Your Life
Bedside Caddy
My bed was on the top bunk, and I really hated having to get out of bed at night to get some water whenever I woke up thirsty. If you are in a similar situation, or if you're using a lofted bed, getting down from there every time you need something can be really exhausting.
I really recommend getting a cute bedside shelf like this one! You can easily clamp it onto your bed frame and keep all your essentials in one place! I've had one since I was a sophomore but I really wish I had known about it as a freshman.
Printer
A printer is something I never thought I would have to buy when moving into college! Why would I? There would be printers you can use everywhere on campus, right? And that's why I didn't buy it.
But I was so wrong! I didn't think about how much time I would waste standing in line to use one, or worse if those printers were out of order! It wasn't until my second year that I decided to invest in a printer. And trust me, it helped me save money and time in the long run. It would be even better if you could split the cost of the printer and share it with your roommate as I did.
Towel Wrap
Seriously, how did I manage without a towel wrap in college?! Not a clue. I was not exactly a fan of having to share bathrooms, not to mention having to walk down the hall to the showers with my bathroom supplies in one hand while trying to hold up the towel with the other.
Having a towel wrap would have made everything so much easier. They come with velcro straps that attach at the top to hold the towel in place so you can walk without worrying about your towel falling off.
Related: 7 Dorm Bathroom Essentials Every Freshman Needs
This post was all about 7 things I wish I brought to college my freshman year
If you're looking for more dorm room essentials, check out this list of dorm essentials for all the dorm-related products you'd definitely want to bring with you to college.
And for the complete list of EVERYTHING you need to bring to college, check out this ultimate college packing list.
For even more dorm room ideas to help you get ready for college and dorm life, check out the following posts: